Company Deep Dive: OKTA
Let's talk about $OKTA.
I certainly knew the name when it went public.

Then it got passed around again a year later in 2018 when Ben Thompson interviewed CEO Todd McKinnon.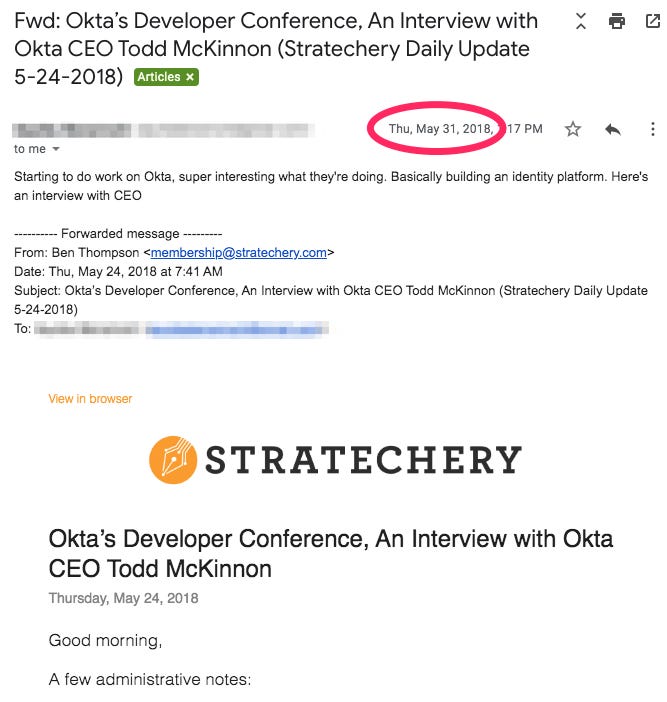 And that was sort of it.
I never spent much time on it. I knew it was in the "identity management" space, whatever that meant.
I started doing a little work on it in early May of this year when it was trading around ~$150. "Identity management" felt incredibly relevant in our COVID/WFH world. The run up from the lows of March 16th felt meaningful, a pullback felt likely.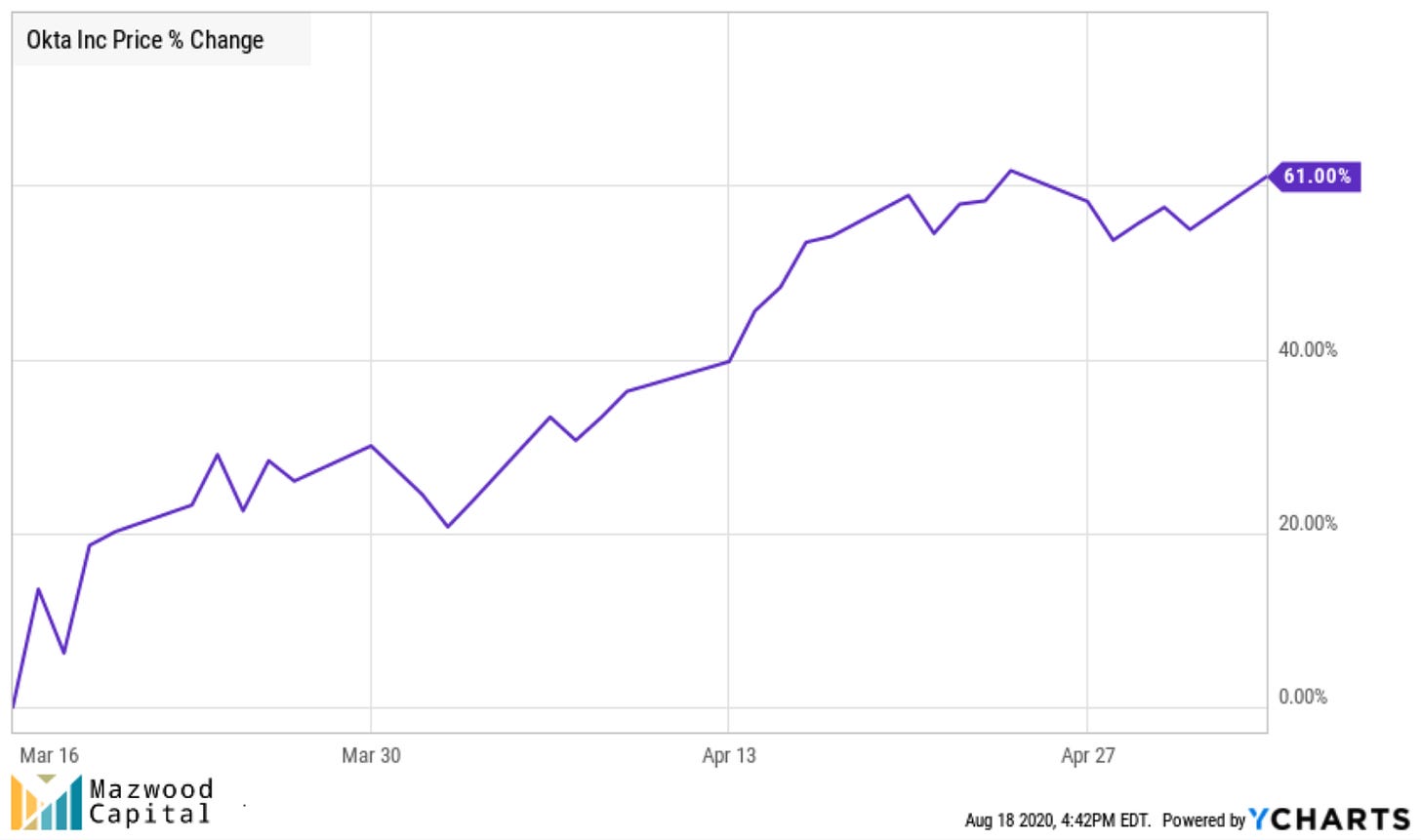 Whoops.
Since May 4 we're up another 33%.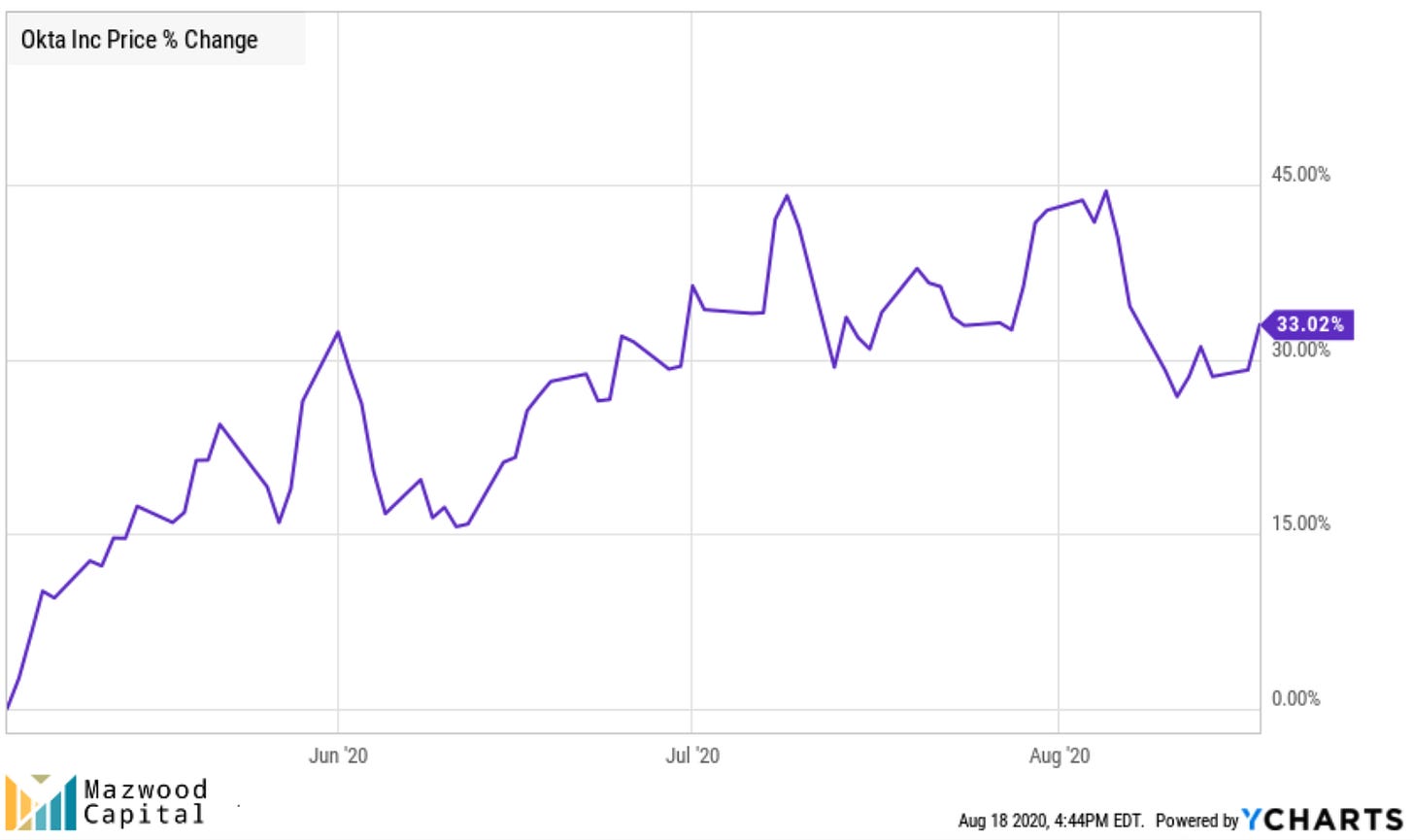 Now, by no means am I a chartist, but I thought this was interesting:
Since Jan 2019, Okta has had two periods of rocket ship growth. And two periods of zero growth. How long will this period stay flat? No clue. But it could be an interesting entry point before the next run-up, right? Maybe.
Let's take a look at what Okta actually does.
The Business
Okta is the leading independent provider of identity for the enterprise. The Okta Identity Cloud enables organizations to securely connect the right people to the right technologies at the right time. With over 6,500 pre-built integrations to applications and infrastructure providers, Okta customers can easily and securely use the best technologies for their business.
Basically, people at work use Okta to securely and easily log into all the things people at work need to log in to.
Consider this anecdote from FedEX:

With a single-sign on through Okta, FedEx workers can safely access all the tools they need to work. Seems like an incredible value add, built for today.
Sales are $600M, growing at a 40%+ clip year over year. This puts it in the same universe as Slack.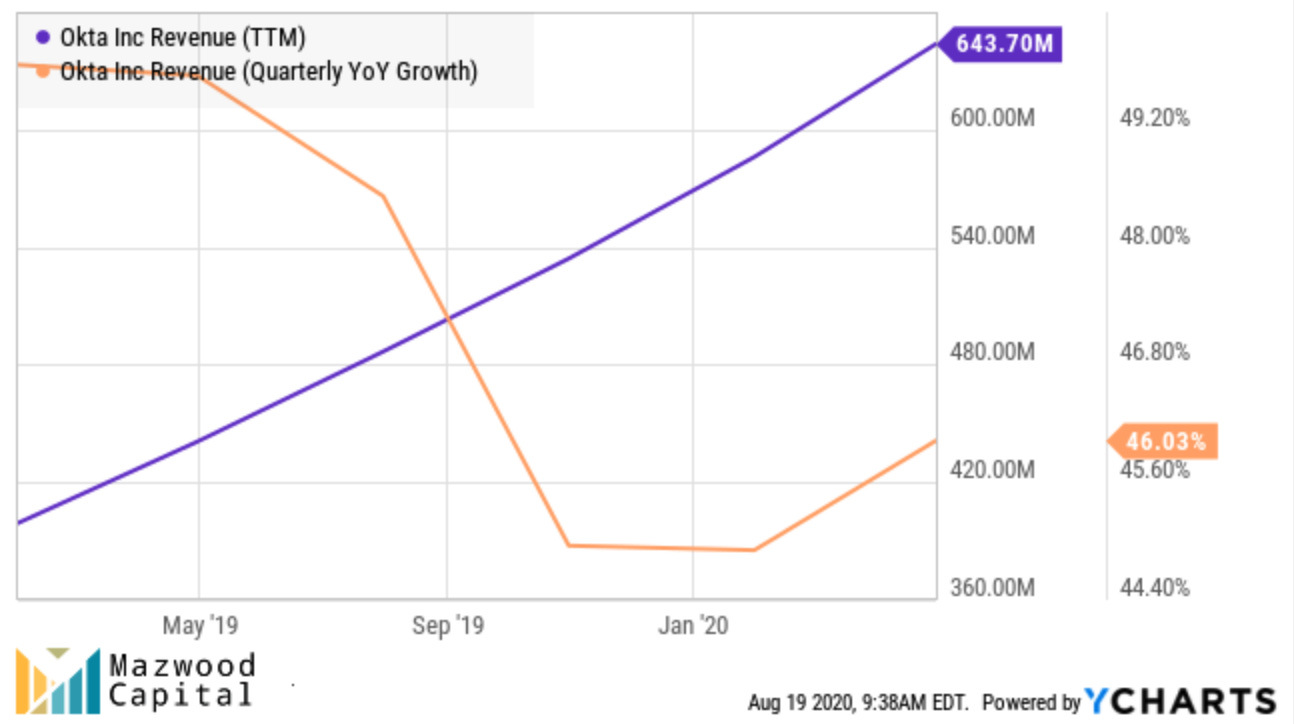 Let's look at some charts from their April 1 Investor day:
I love their land and expand sales operation: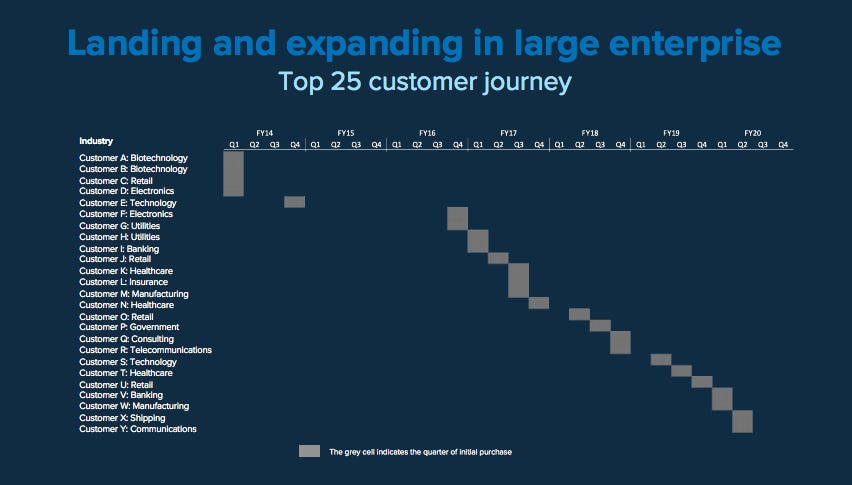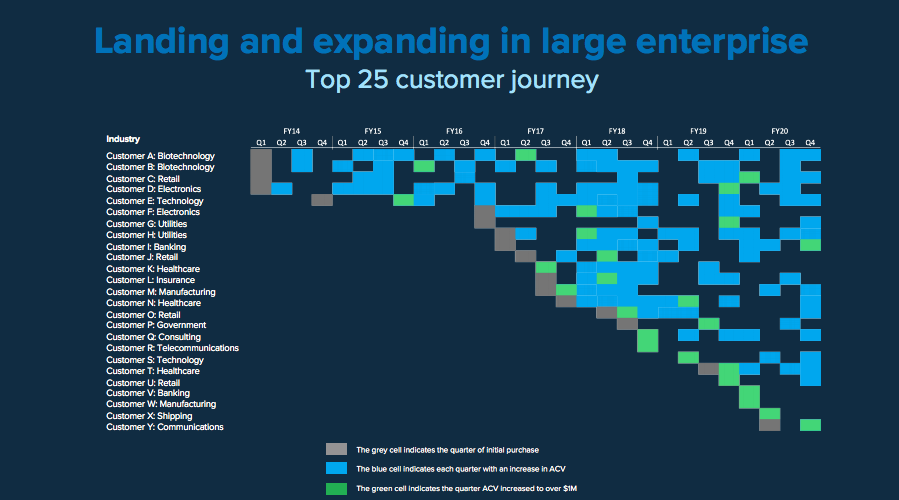 And their very nice net dollar retention: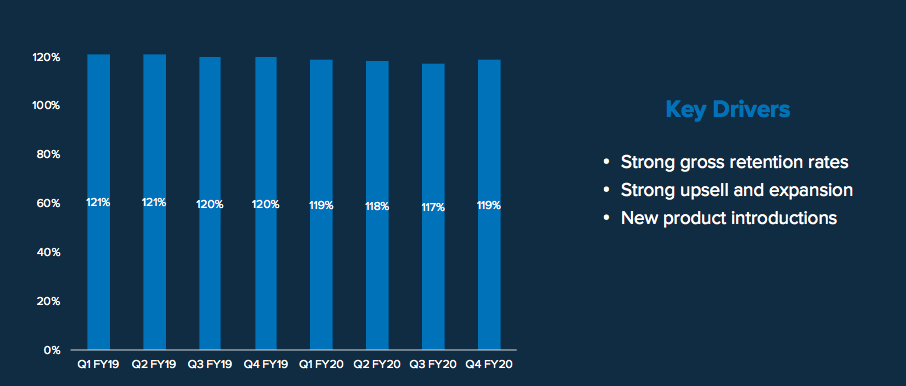 Which is good for top quartile of all SaaS businesses (according to the very smart and observant Jamin Ball):
There are others who have published concise and excellent thoughts on Okta. Consider @hhhypergrowth's great thread from last month.
Some highlights regarding the product:
And regarding the business:
Leadership
Let's take a very brief look at Okta's CEO for a minute.
CEO and Co-Founder Todd Mckinnon served as Head of Engineering at Salesforce before starting Okta in 2009. Love a good founder-led business. He gets rave reviews all over the place.
And you've got to applaud when he likes your complimentary tweets!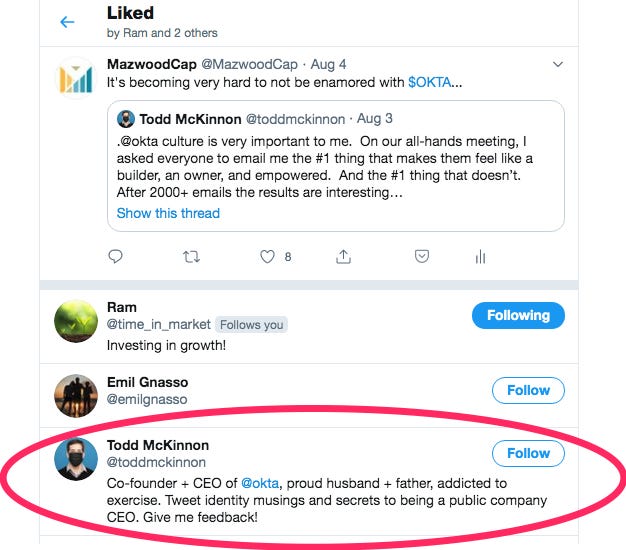 Valuation
Looking at the other two names with similar revenue + growth, Okta is expensive.

And when you zoom out to all technology companies? Okta is really expensive!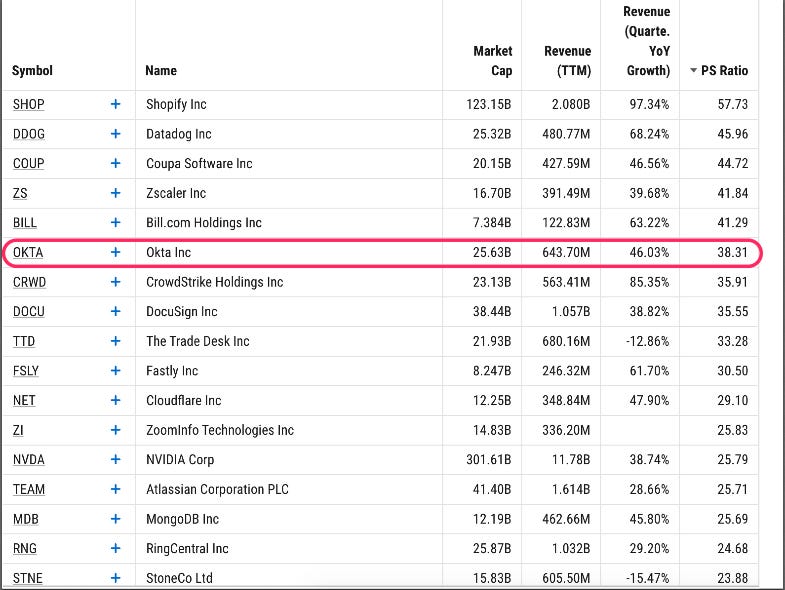 I'll grant you that in the first 18 months of being public, the market didn't really know how to value Okta.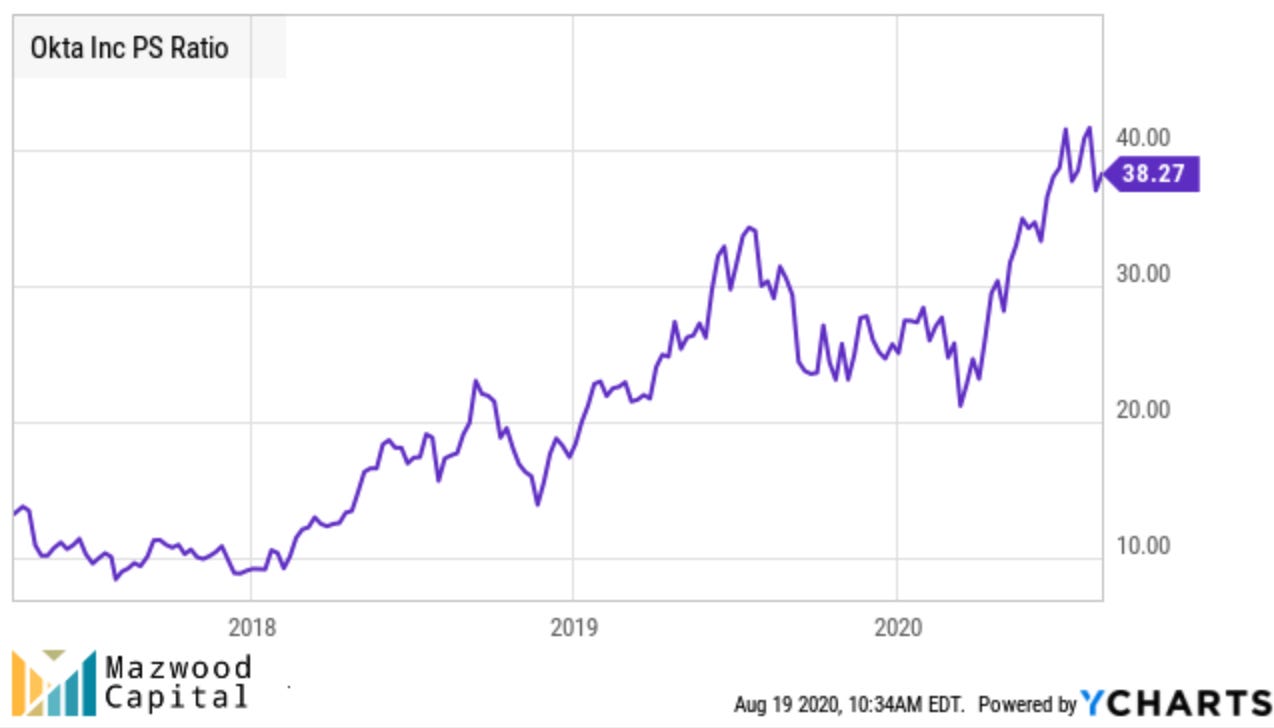 But based on size, growth rates and more, this feels like a company that should be trading in the 25x sales range. Not 40.
The Field
If I like the product and the market, it's worth looking to see if there are other players in this space.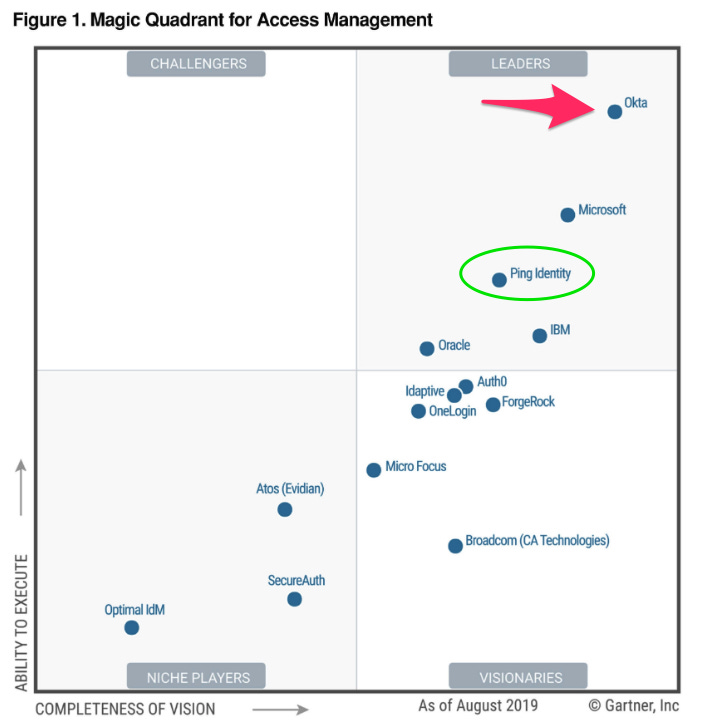 Ping Identity. Hm.
Very surface level thoughts:
Product looks very, very similar. ✅

Market identical. ✅

Valuation looks like a great alternative. ✅
A lot more runway in size—greater 10x potential. ✅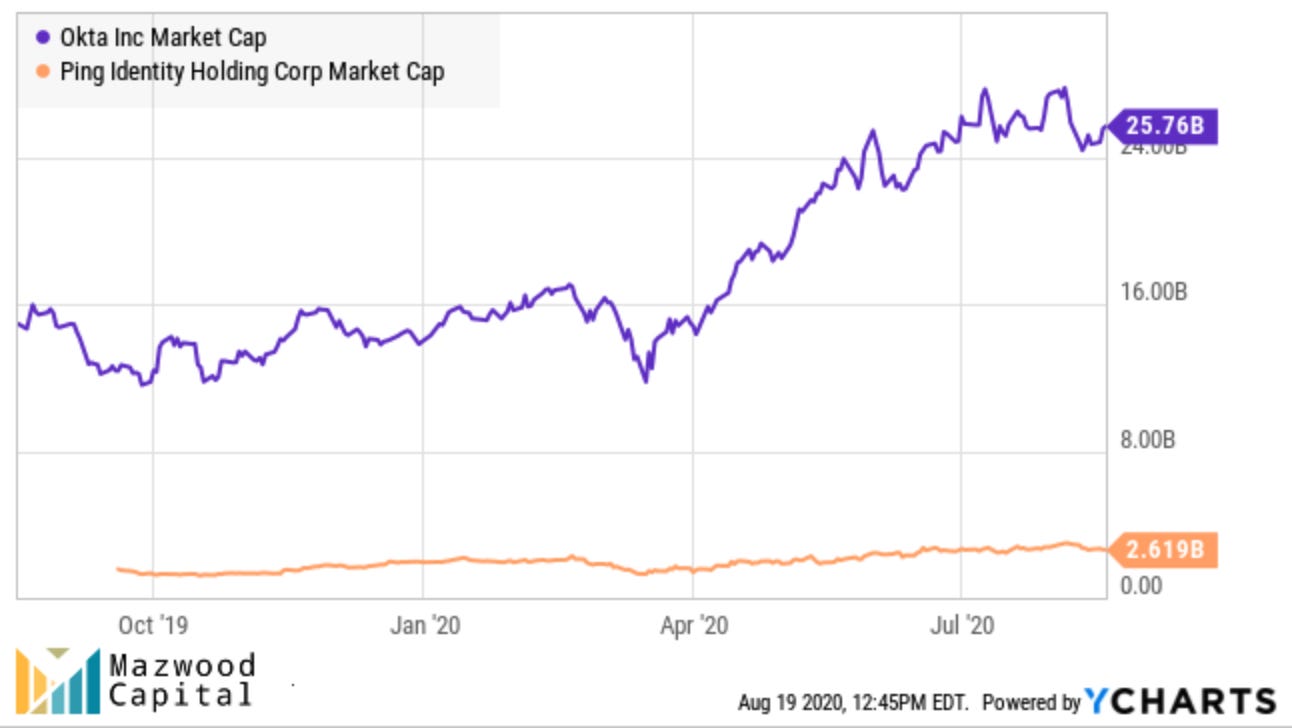 But here's something I can't wrap my head around. Take a look at Ping's revenue growth over the last eight quarters:

WHAT!?
A sub 3B company with negative growth is not my jam… thanks for playing $PING! Good luck!
For reference, here are the last eight quarters for Okta ⬇️:
Slow and steady wins the race.
Where I Stand
In a smaller account, I initiated a position on 6/4 at a cost basis of $186.16. Since then, I've averaged up slightly to an average cost basis of $197.19.
For Mazwood, I initiated a position on 7/15 at a cost of $200.64, barely averaging up to an average cost of $202.40.
In a lot of ways this is pretty simple: Founder-led business, operating in a growing market, with very strong dollar net retention. Don't overcomplicate this.
I like Okta. I'm comfortable holding these positions. I want to add more. I think this company will continue to grow and be disruptive. But I can't ignore the high valuation now (despite high valuations being all the rage these days). I'll look to add more at entry points where the valuation is more attractive.
Slow and steady wins the race.