Company Deep Dive: MercadoLibre
MercadoLibre has been one of those names on my watchlist for a few months. I've been watching it go up, without knowing too much about it.
The Amazon of Latin America? Or South America? Or is just Argentina? Oh wait, there's a Paypal-like component, too?
During the great sell-off of September 3, 2020, it felt like a good time to initiate a starter position.
Now that it's in the portfolio, let's take a deeper look.
---

---
1. The Business
MercadoLibre hosts the largest online commerce and payments ecosystem in Latin America. Our efforts are centered on enabling e-commerce and digital and mobile payments on behalf of our customers by delivering a suite of technology solutions across the complete value chain of commerce. We are present in 18 countries including: Argentina, Brazil, Mexico, Colombia, Chile, Venezuela and Peru. Based on unique visitors and page views we are market leaders in each of the major countries where we are present.

Through our online commerce platform and related services, we provide our users with robust online commerce and payments tools that not only contribute to the development of a large and growing e-commerce community in Latin America (a region with a population of over 635 million people and one of the fastest-growing Internet penetration rates in the world), but also foster entrepreneurship and social mobility. Our main focus is to deliver compelling technological and commercial solutions that address the distinctive cultural and geographic challenges of operating an online commerce and payments platform in Latin America.
Okay, got it. Muy bien.
For starters, let's look at how $MELI reports their numbers.

A. Enhanced Marketplace
Enhanced Marketplace is comprised of Mercado Libre Marketplace Service and Mercado Envios Service.
B. Non-Marketplace Services
Non-Marketplace Services are comprised of our Mercado Pago Service, Mercado Libre Classifieds Service, Mercado Libre Advertising Service, Mercado Shops Webstores Service and other anciliarry businesses.
And what in the world are all these different services?
A. Enhanced Marketplace
Mercado Libre - Sellers pay commissions on successful transactions, equal to a percentage of the value of an item.

Mercado Envios - Partnership with first class carriers and logistic companies to provide efficient and reliable logistic solutions (Drop Shipping, Cross Docking and Fulfillment).
B. Non-Marketplace Services
Mercado Credito - Credit solution to provide cash advances and working capital loans to professional sellers and loans to MercadoLibre buyers.

Mercado Shops - Sellers pay set-up and maintenance fees on storefronts.

Mercado Pago - Broad offer of financial services, including payment processing, gateway services, mobile payments, credits and cards.

Mercado Libre Advertising Service - Advertisers promote their brands and products within the Mercado Libre marketplace, paying on a CPC basis for Product Ads and on a CPM basis for Display banners.
So this looks like if $AMZN, $SHOP, $SQ and $PYPL had a baby in South America. Intriguing, no? And where do they conduct business exactly?

Almost 2/3 of revenue comes from Brazil. 20% from Argentina. 83.5% from these two countries alone. Add in Mexico, and these three counties comprise 95.5% of $MELI's revenue.
The other 4.5% comes from a big pot comprising Chile, Colombia, Costa Rica, Dominican Republic, Ecuador, Panama, Peru, Bolivia, Honduras, Nicaragua, El Salvador, Guatemala, Paraguay, Uruguay and (apparently) the US.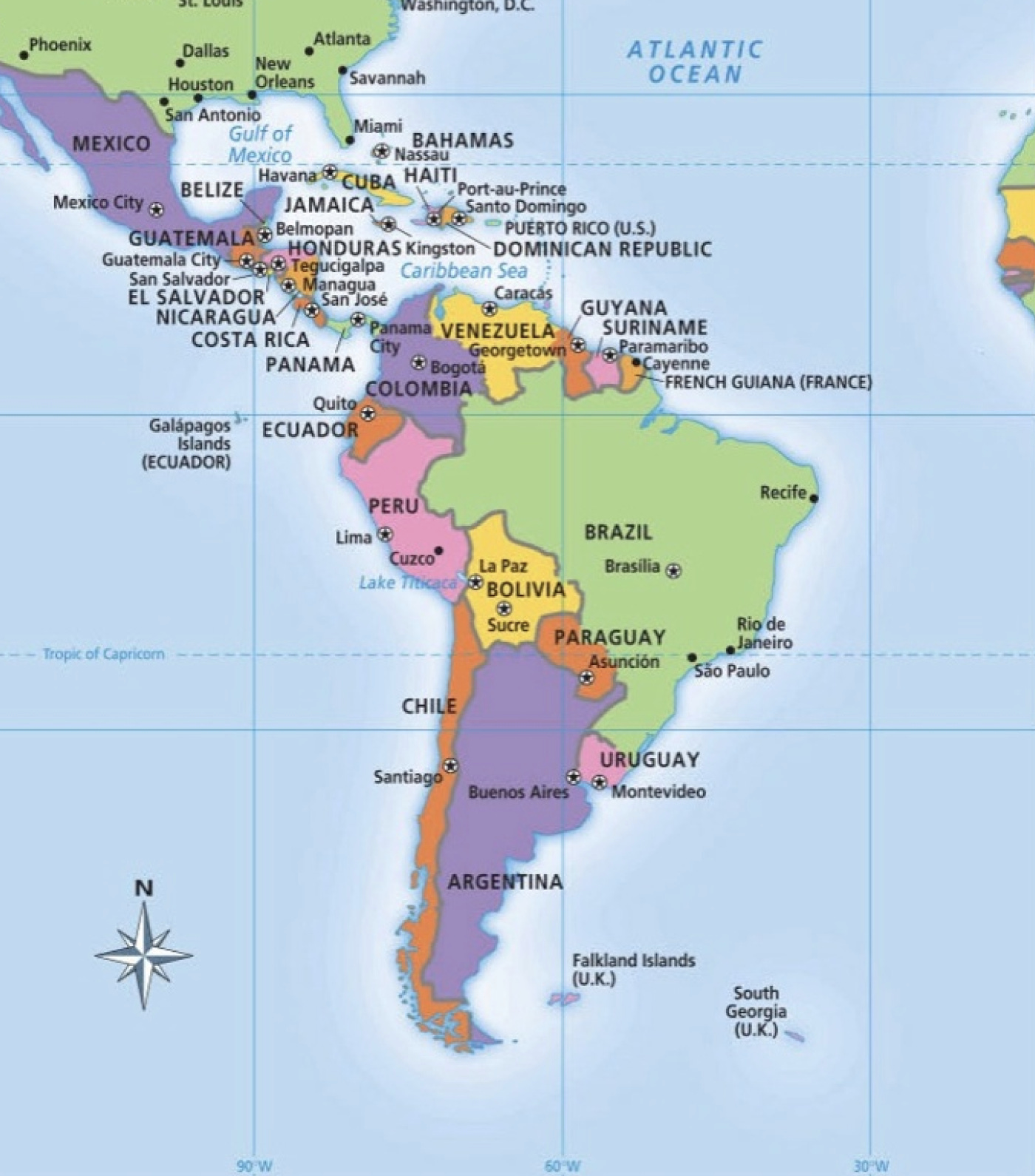 ---
2. Brief History
At age 26, Argentinian Marcos Galperin enrolls at Stanford's Graduate School of Business. Here, he comes up with the business for MercadoLibre, and is quickly joined by Stelleo Tolda and Hernan Kazah. Looking back, Kazah said, "we weren't very innovative. At the time there were like 80 other companies throughout Latin America following the same business model. We may have had a great team and long-term vision. But the idea was not unique." Talk about inspiring confidence! But the vision came to fruition. After a whirlwind of raising money, launching in new markets, and building out new product lines, MercadoLibre went public in 2007.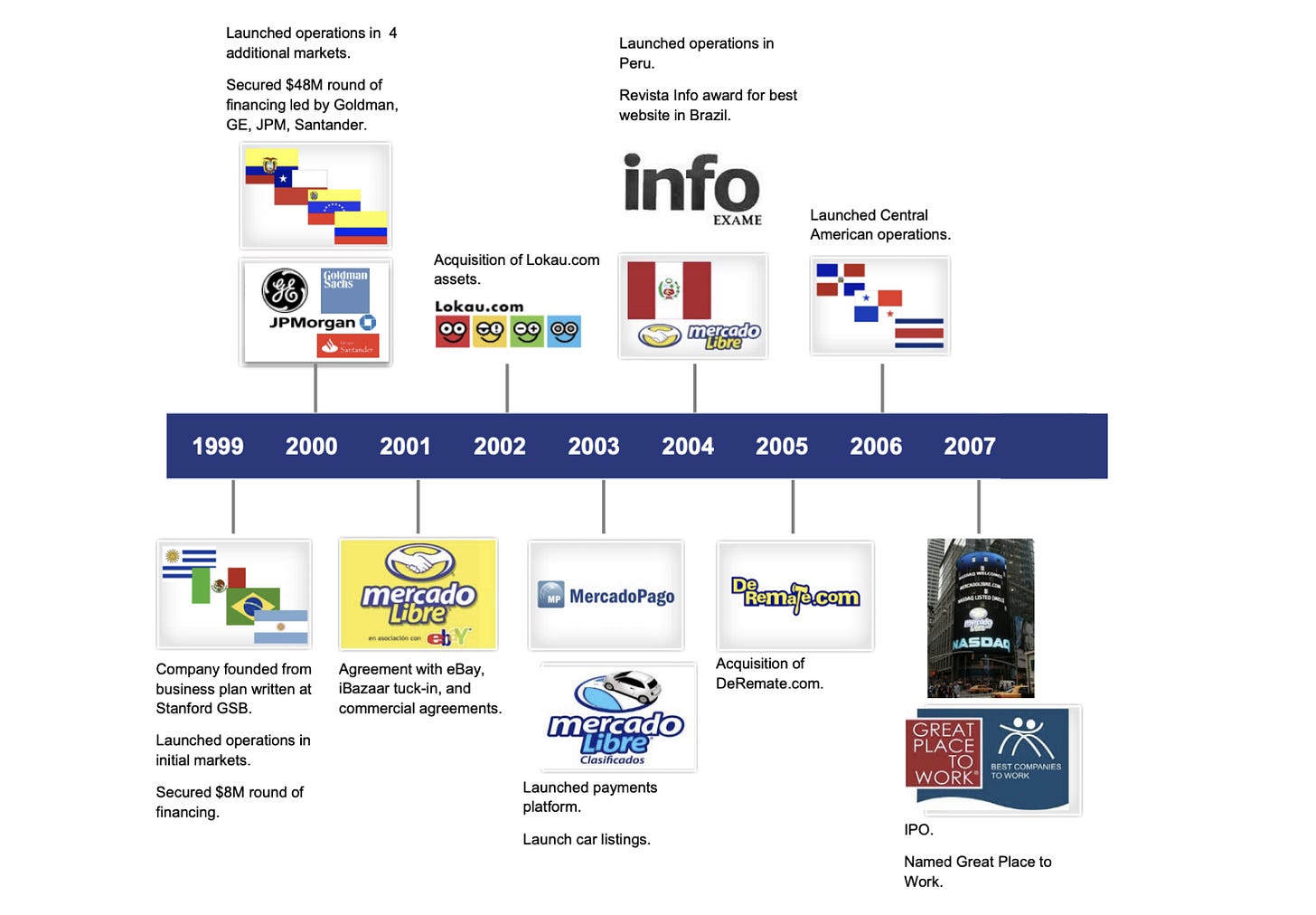 There were some reports earlier this year that Galperin was retiring, paving the way for COO Stelleo Tolda (his Stanford GSB classmate!) to take the helm. Even with Tolda (effectively a co-founder) on top, we've still got a founder-led business dating back more than 20 years.
---
3. Some Numbers
$MELI tells somewhat of a bizarre story in their financials.
Let's start with the good news:
$2.8B in sales, still growing at 60%+. That's pretty nice.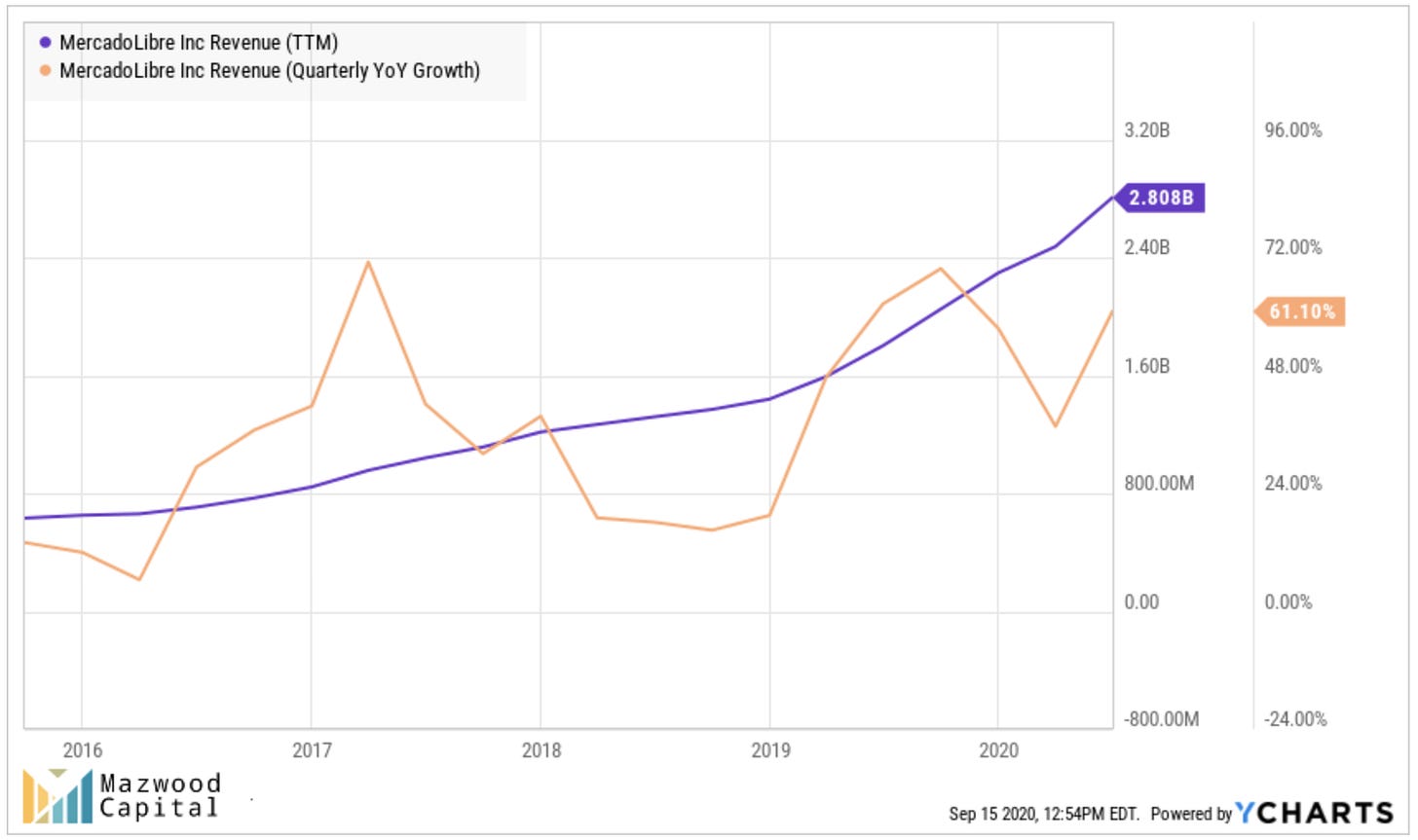 How many other companies are in the $2B+ revenue / 60%+ growth cohort? It turns out, just 25*. Here are the top 16 (by market cap).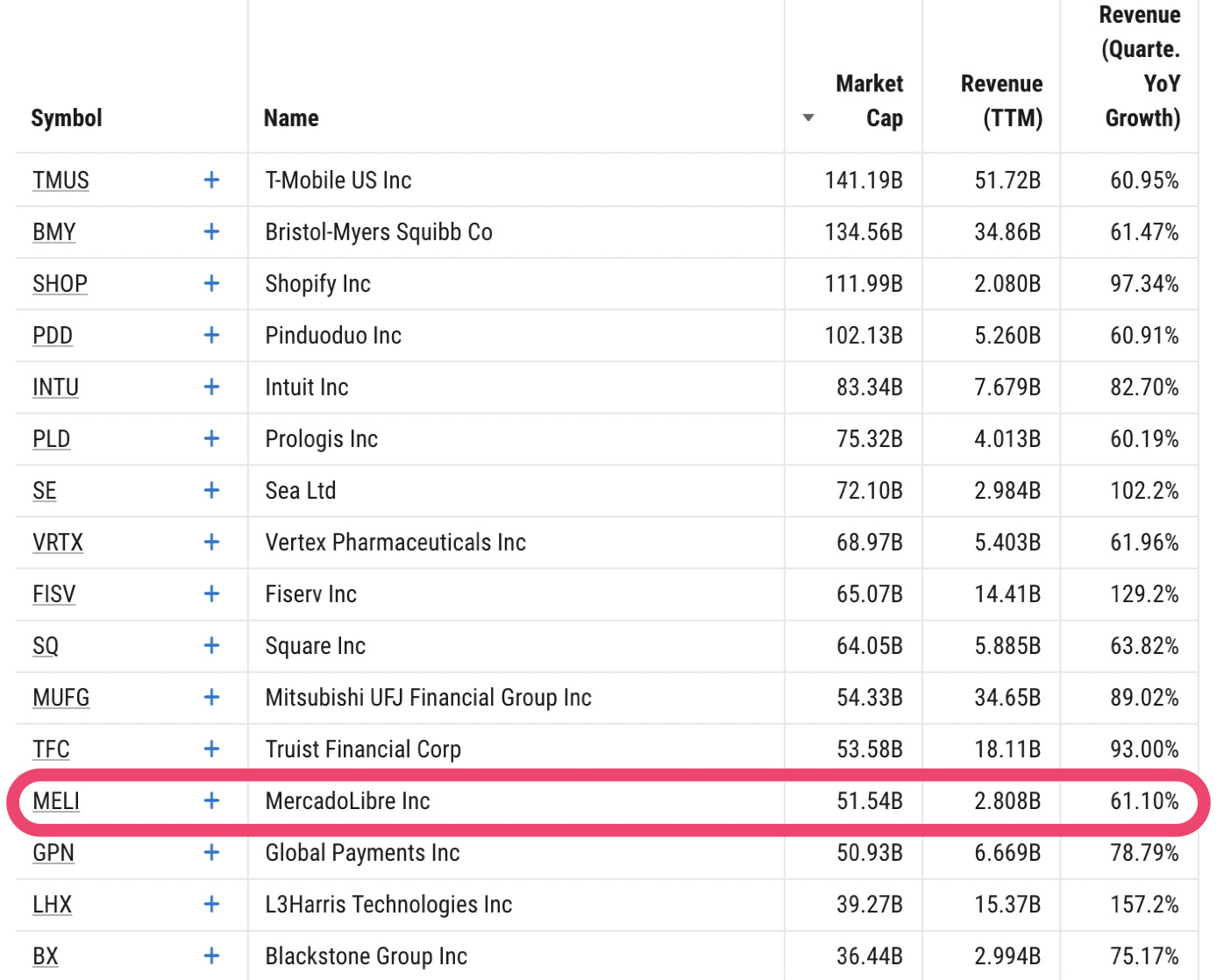 *of companies listed on major U.S. Indices, with a market cap greater than $1B
Shopify… Sea… Pinduoduo… Square. Those are some pretty juicy names.
Now, I'm certainly not here to tell you that MercadoLibre is cheap. It's not. But it doesn't look too bad next to these other names. $MELI's P/S is "only" ~25% higher than it was a year ago, compared to the ~100% increases of some others. I can live with this.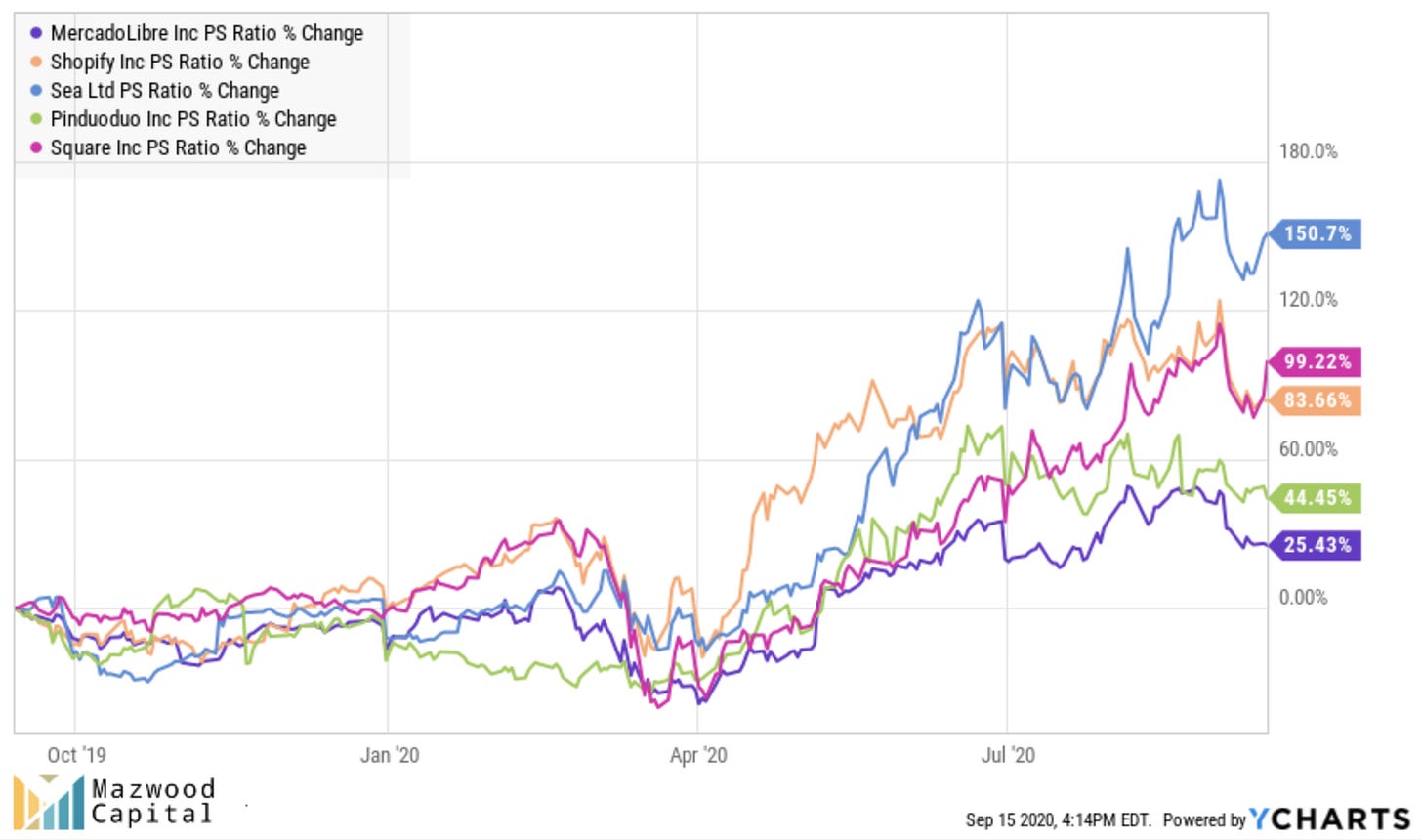 Digging a little deeper, we find:
A Gross Merchandise Volume that has a lot of room to run. (It's not fair to actually compare $MELI to the insanity of $BABA's numbers, but what an illustration!).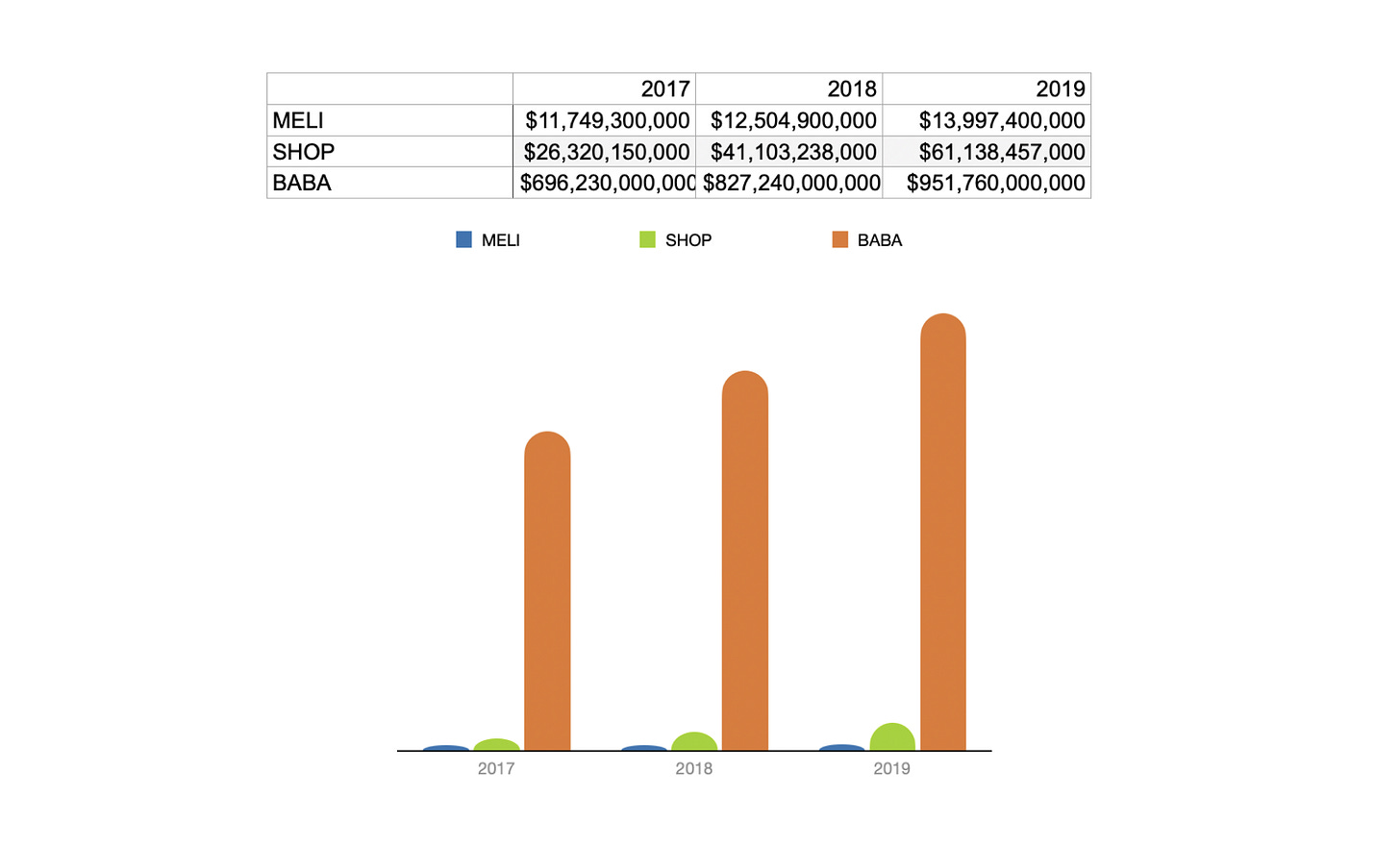 Note: Last month, on Aug 10, $MELI reported quarterly GMV of $5.0B, up 101.5% Y/Y, so we're going in the right direction!
A strong, albeit puzzling jump in Free Cash flow.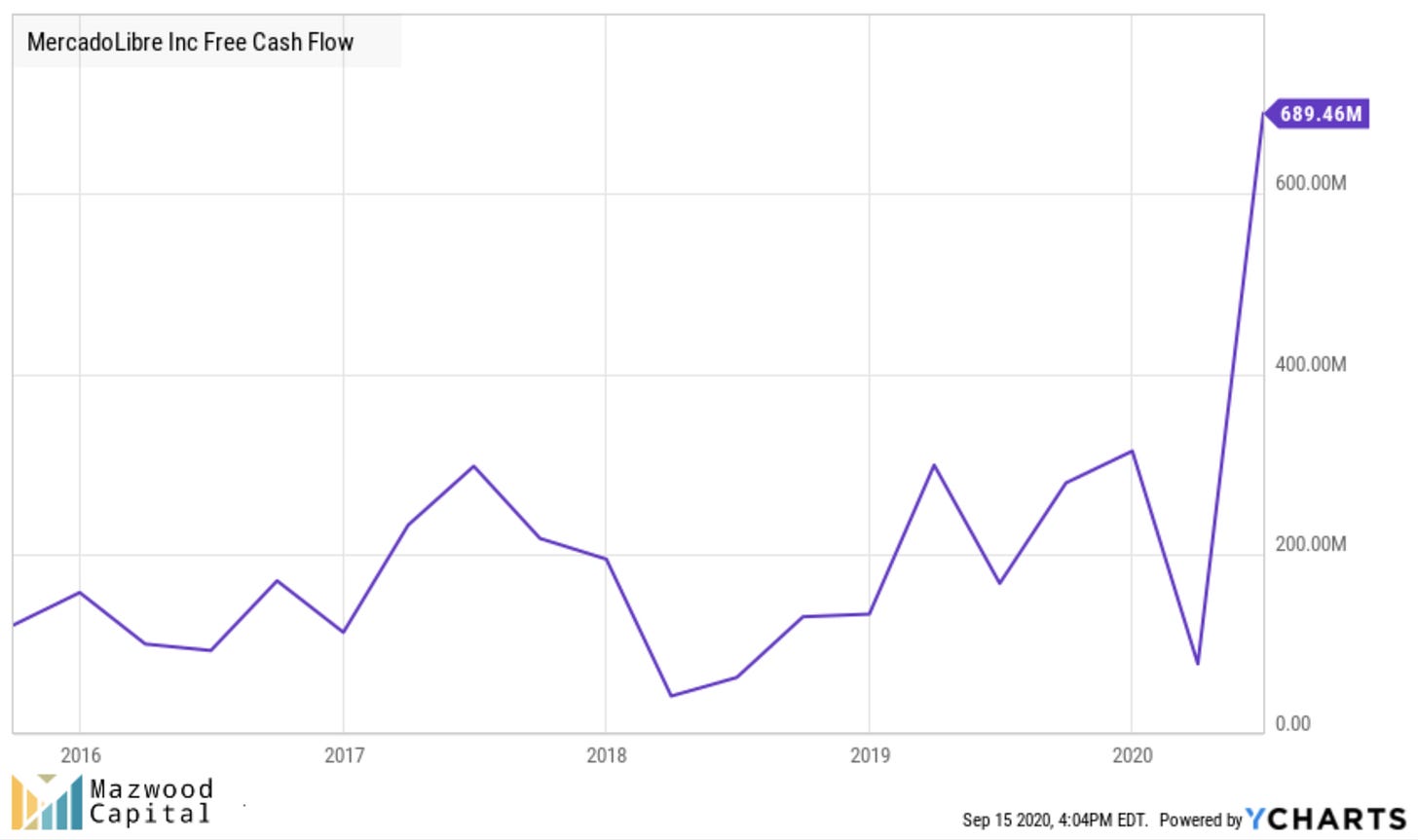 The opposite of the right direction for Net Income.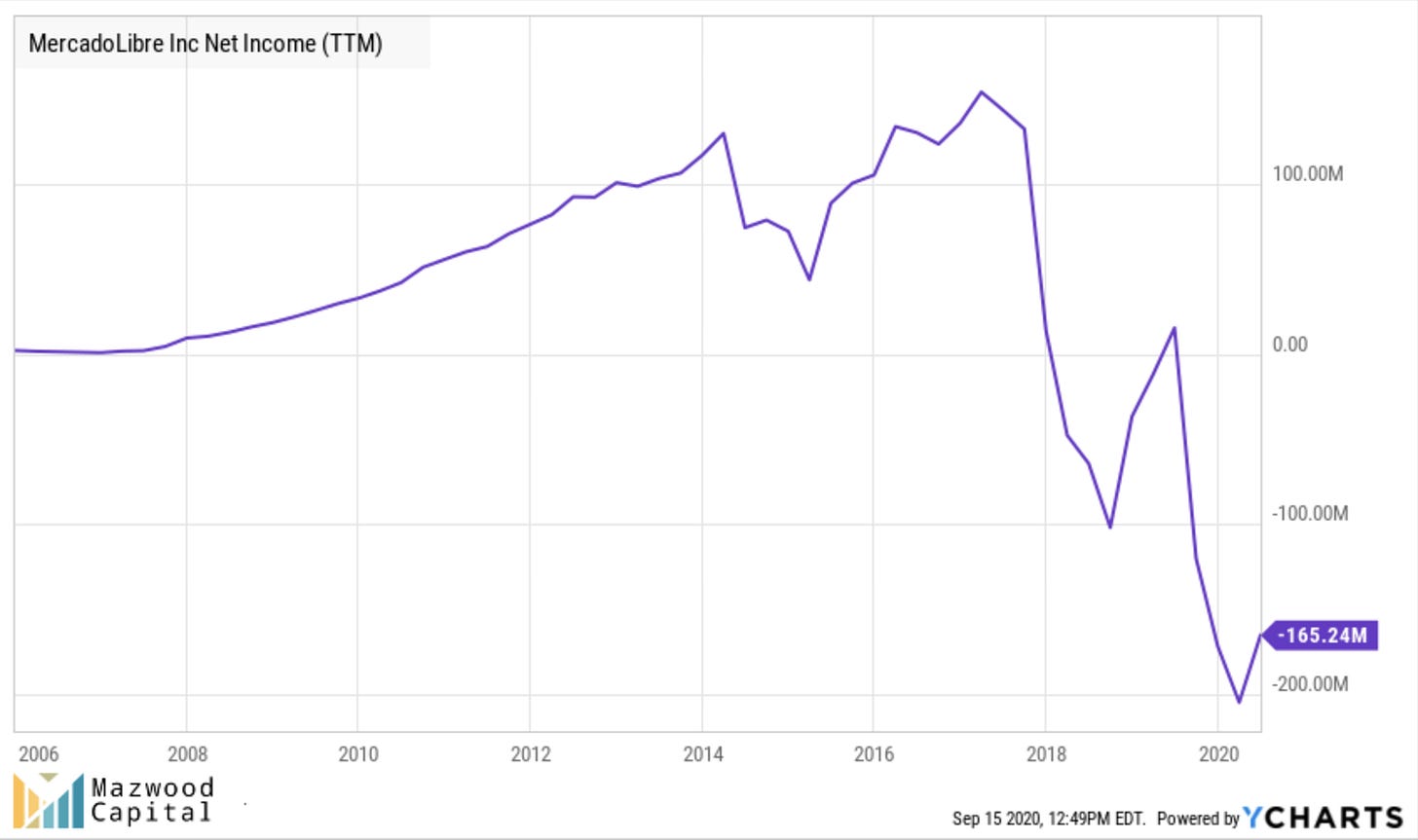 And not where I want to see Profit Margins headed.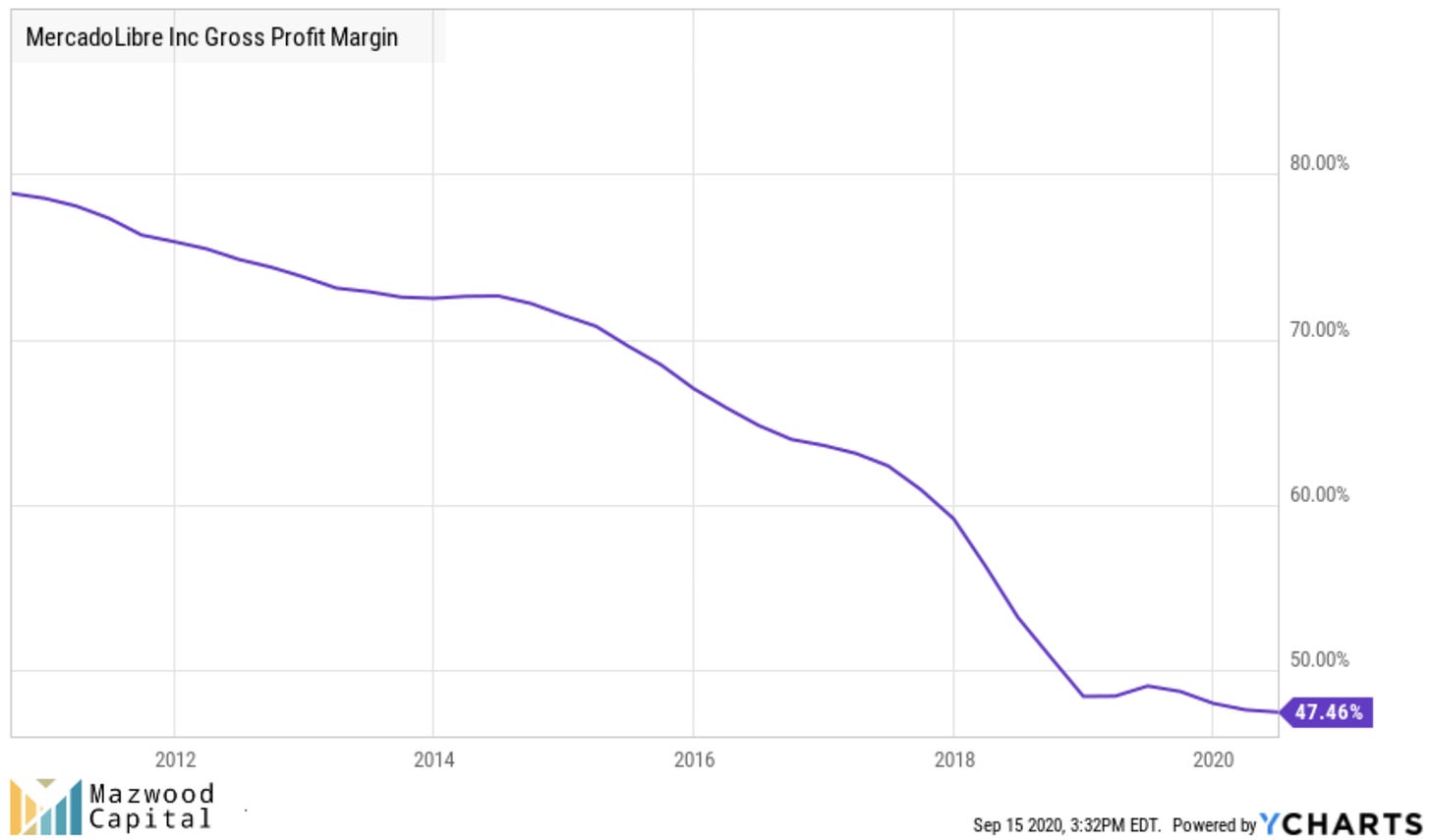 Truth be told, these numbers surprised me a little. Sure MercadoLibre is consistently launching new products, launching in new markets. It's not a cheap business to run. But should profit margin be declining this poorly? Shouldn't unit economics improve over time?
If MercadoLibre is the Amazon/Shopify/Square/Paypal of the South, what have their gross profit margins done?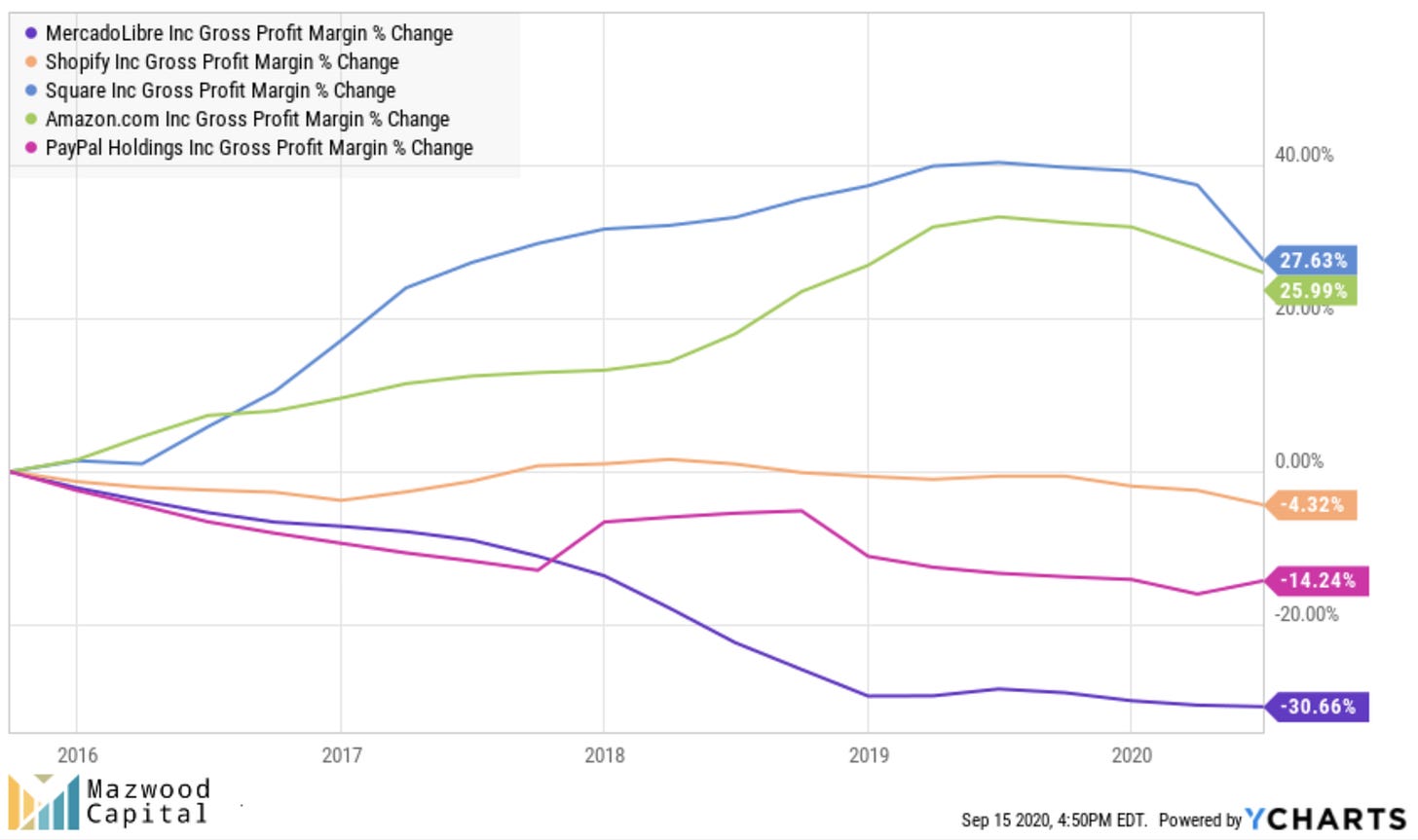 Not a great slide if you're a $MELI bull.
Okay, now that we're bummed out on these numbers, let's move on to better news.
---
4.
COVID! 🤦‍♂️🤦‍♂️
So I think we can all agree on a few things:
The fact that COVID qualifies as better news is gross.

COVID = not good.

But COVID for an e-commerce/digital payments company = pretty good.
MercadoLibre put out a report on how COVID has affected their business. I've pulled some highlights below.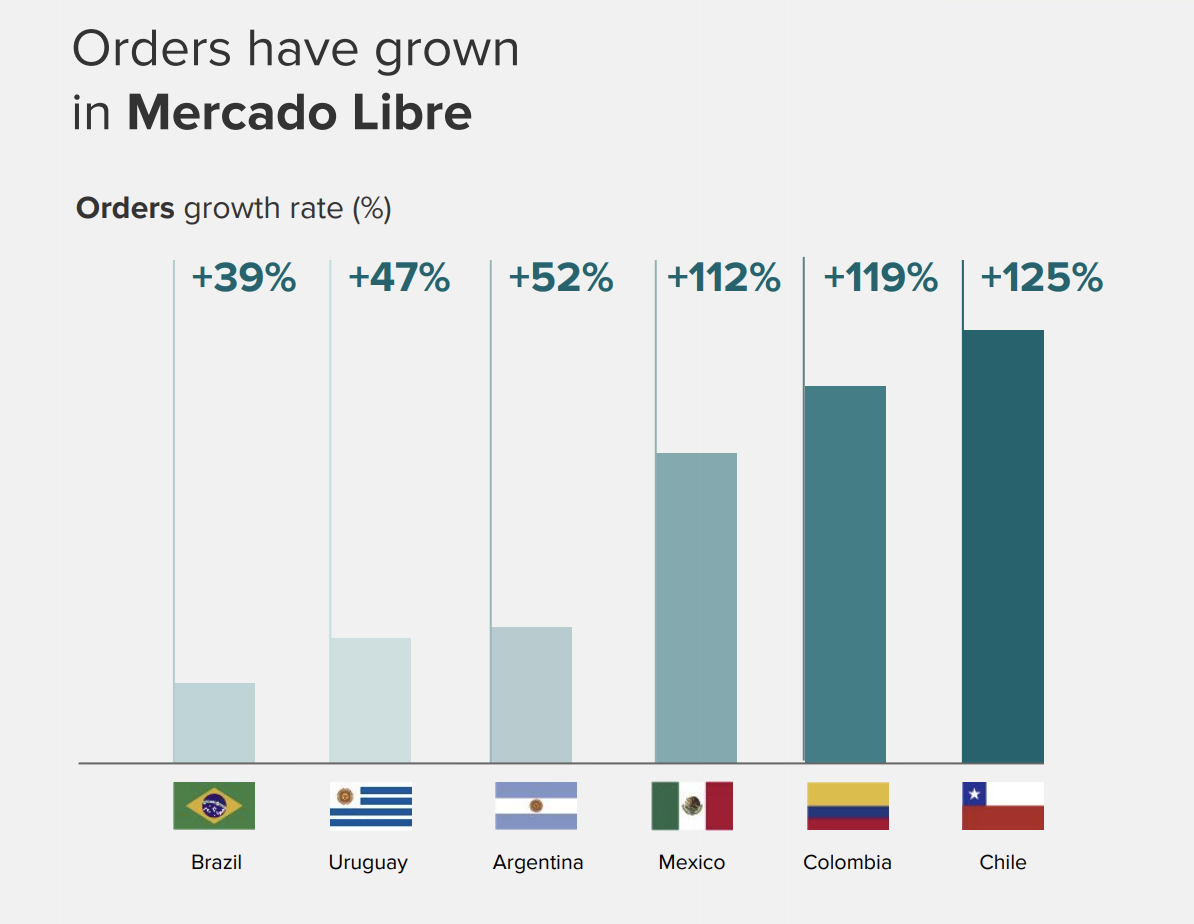 From 2/24/20 to 5/03/20 vs. Same Period in '19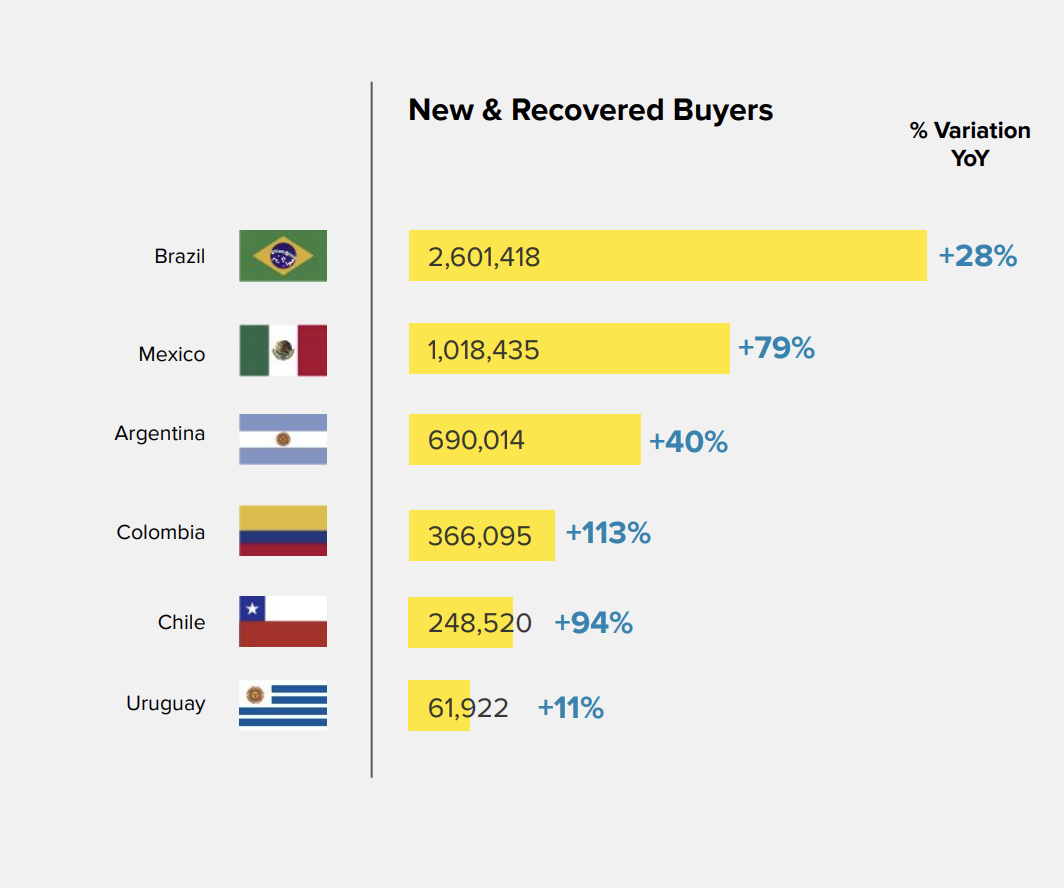 New Buyers = First time purchaser with MercadoLibre
Recovered Buyers = Had not made a purchase in previous 12 months
From 2/24/20 to 5/03/20 vs. Same Period in '19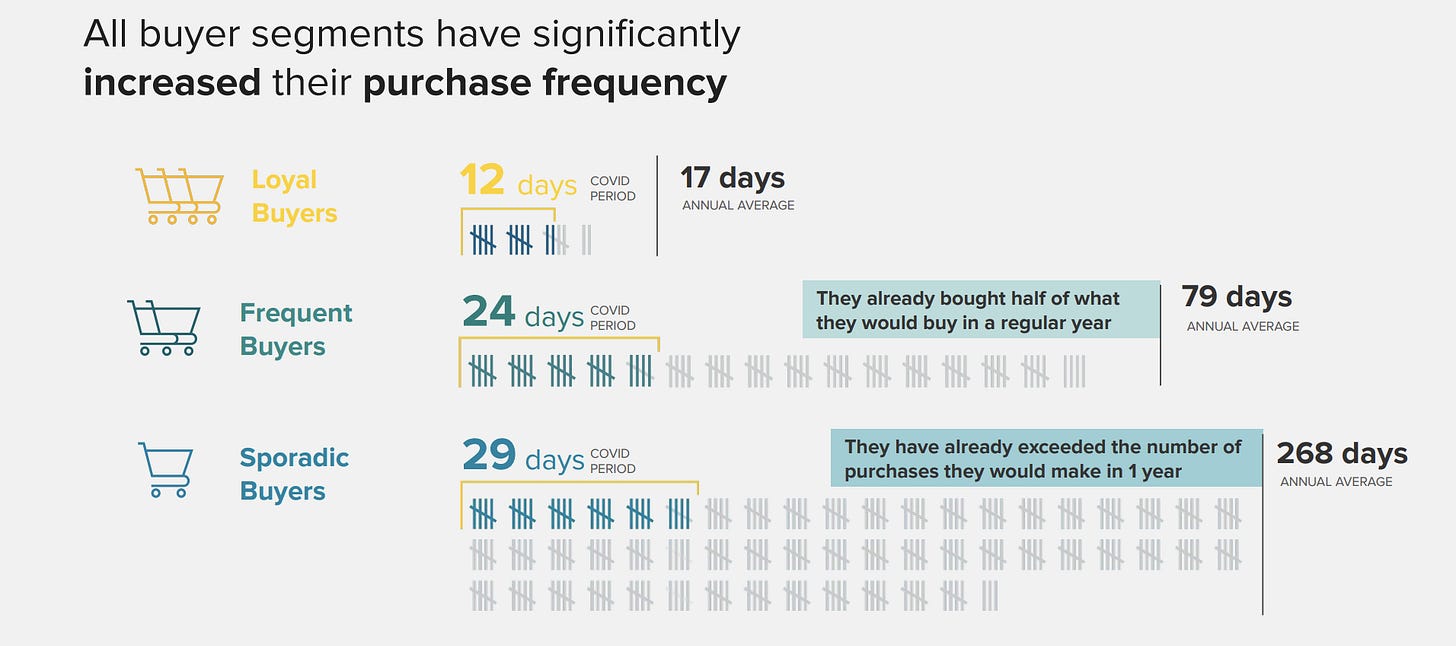 From 2/24/20 to 4/19/20 vs. annual average 2/24/19-2/23/20
It's just generally a weird time when global pandemics are good for business. Sigh.
---
5. The Region
My preference is to invest in U.S. securities.
If I'm being intellectually honest, however, I don't strictly follow this.
I've got $BABA, and have dabbled in $TCHEY.

I've got $SPOT, and scooped up some $STNE in March.

I'm also really excited about $SE.
This doesn't feel too U.S. centric.
But the U.S. is clearly more in my circle of competence than other regions where I can't see the product or services first hand ($SPOT, notwithstanding).
Outside of a small bet on $STNE in March, South America is not on my radar at all.
So how do I feel about South America as a variable when it comes to MercadoLibre?
Mixed!
As an investor that digs growth, I love this slide: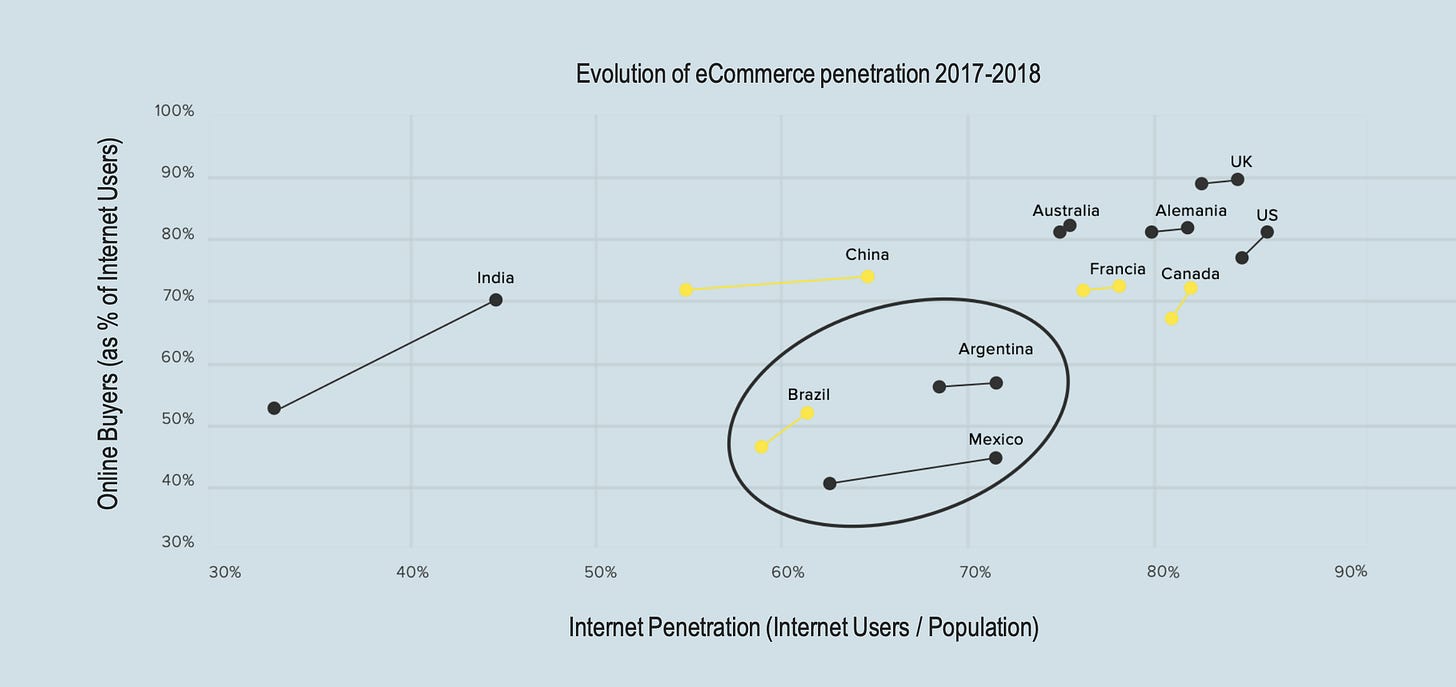 Forget online shopping for a minute. Latin America trails much of the world in internet usage! What happens when more of Latin America gets connected? $MELI wins.
MercadoLibre also actively develops products to serve these populations and bring them into their ecosystem. $MELI's 2019 annual report states:
Because a significant segment of the population in Latin America does not have access to credit cards, and given that the access to credit is an enabler for consumers when purchasing high-ticket items, we have also identified a significant opportunity for consumer lending. We have begun to extend consumer credit to our buyers as well, leveraging their existing data on MercadoLibre's Marketplaces and the distribution from our marketplace to proactively offer loans to them.
Of course not all countries/markets are the same, but there are obviously some similarities between many of the countries where $MELI operates. Given this construct, they can rollout a new product or business line to one country, test and iterate, then roll out to other markets. For example, Mercado Credito was introduced in Argentina in 2017, in Brazil in 2018 and in Mexico in 2019.
Build. Rinse. Repeat.
But there are some pretty big red flags when dipping your toes into an investment that derives 2/3 of its revenue from Brazil. Check out this take from Ignacio San Martin.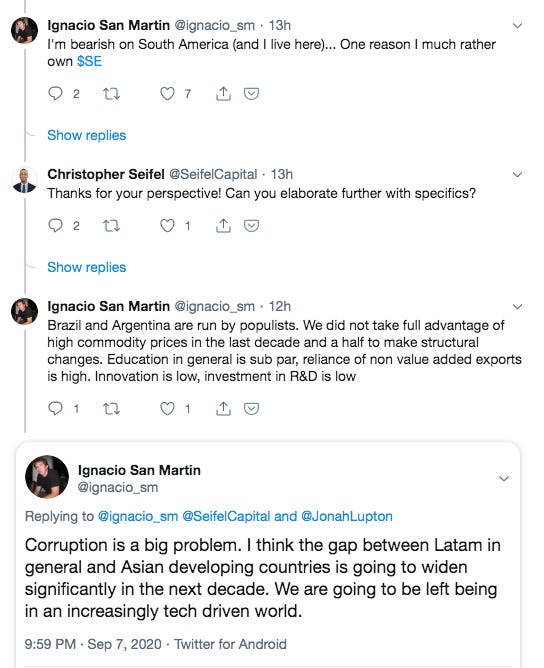 Risk is okay. Risk is necessary. Risk is part of the game.
As William Goldman said, "Nobody knows anything." We have no idea how our investments will do. They are out of our control. We just make the best decisions we can with the information we have.
Everyone's risk profile is different. But for me, there's no reason to take on outsized risk. There are plenty of ways to generate outsized returns, without compounding risk.
The investment opportunity for $MELI could be great. There's a ton to love in the story, the products, the market, the leadership. But some off-putting numbers and the wildly unknown geopolitical risk make it hard for $MELI to be a core position.
For now, I'm comfortable taking a flyer.
Watching it closely. And treading carefully.
Wish me luck.