Company Deep Dive: Lululemon Athletica
There's a lot of momentum in SaaS right now. For good reason. I'm down with SaaS.
But I've been craving something else. A little diversification from Net Dollar Retention. A little diversification from PS levels through the roof. Something a little more… basic?
Then in walk these happy people from Lululemon: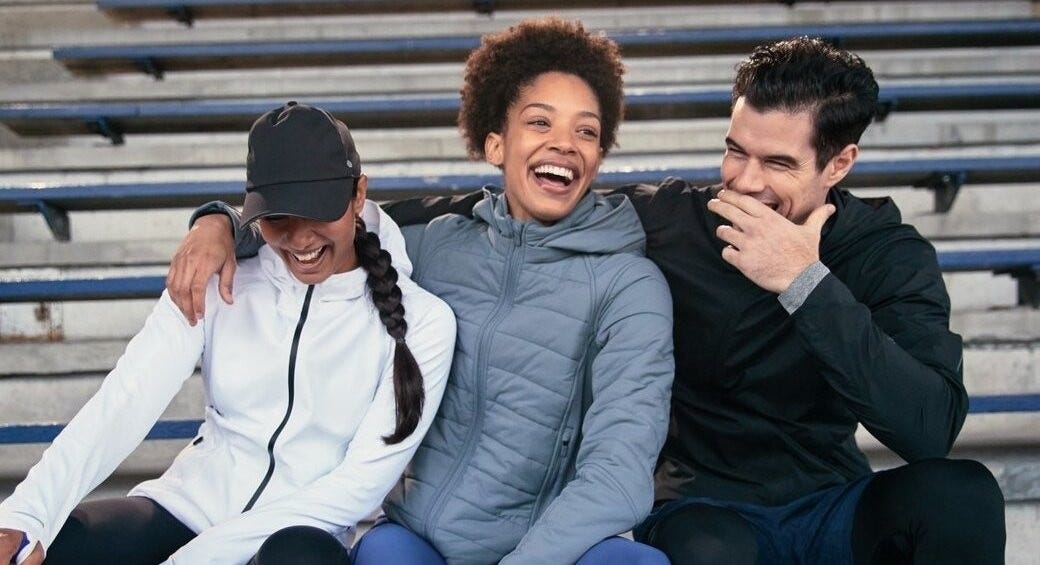 Nike was the first stock I ever owned (and still own, compounding for the win!), so I'm no stranger to retail.
But what did Lululemon offer that Nike didn't? Was there a place for Lululemon in the portfolio? Well, let's put on a yoga playlist and find out!
---
In June 2018, Founder of Lululemon Athletica, Chip Wilson, was on Guy Raz's How I Built This. It's always great to get a sense of the history and culture of any company, especially one as a potential investment. The show page describes the episode:
After noticing more and more people sign up for yoga in the late 1990s, Chip Wilson bet everything on an athletic apparel company aimed toward young professional women. What started as a small pop-up store in Vancouver eventually became the multibillion-dollar brand Lululemon Athletica, spawning a new fashion trend and forever changing what women wear at the gym.
I understood the story. I admired the hustle. So what did Lululemon look like as an investment today?
---
1. The Business
Pre-covid (I know we're not pre-covid, but let me lay the groundwork here), $LULU looked like this: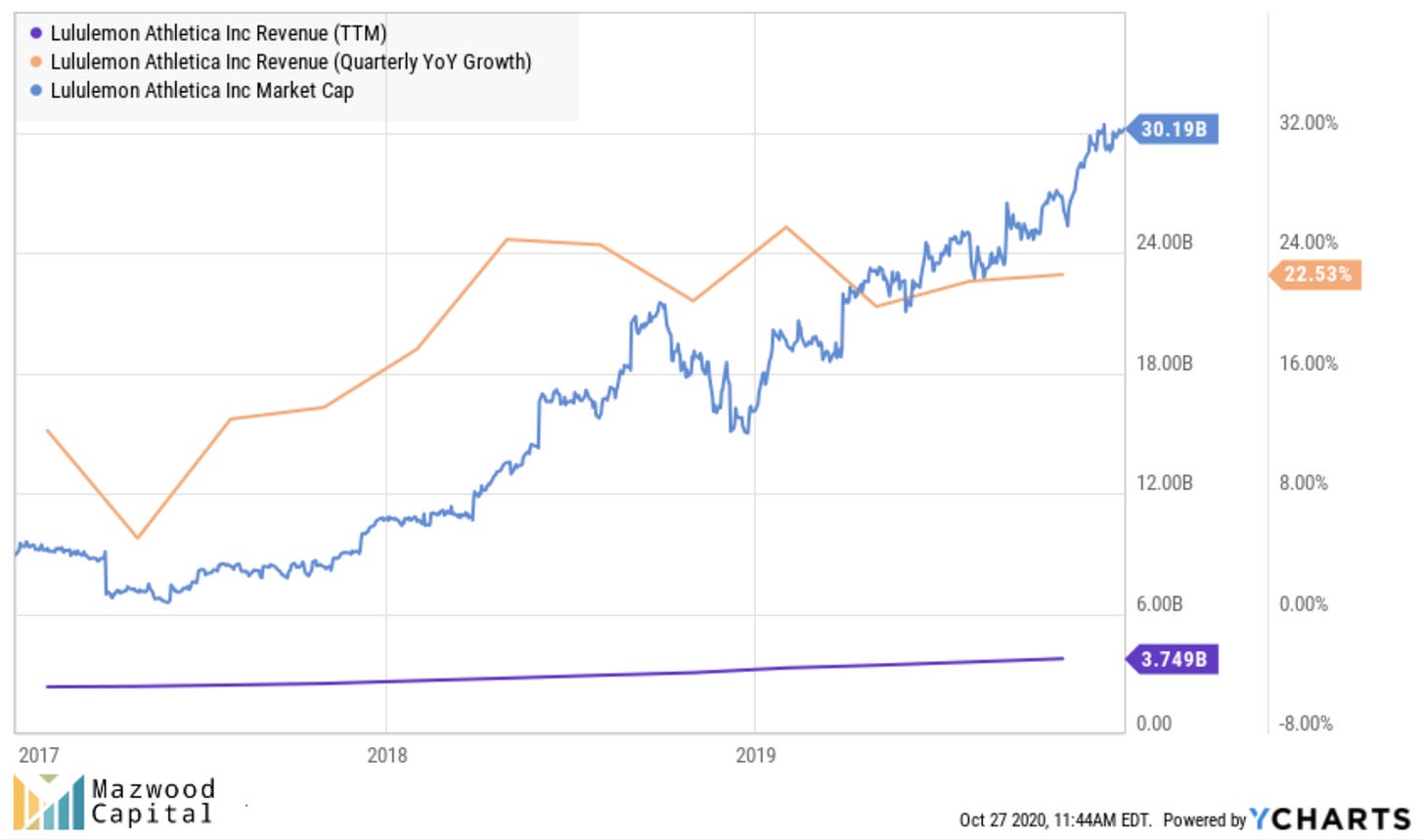 A nice $30B market cap business, doing close to $4B in sales, growing 20% year over year. Cool.
Since (during?) COVID, we've now got a market cap that is almost 50% higher, with flattened growth. Ah, the markets.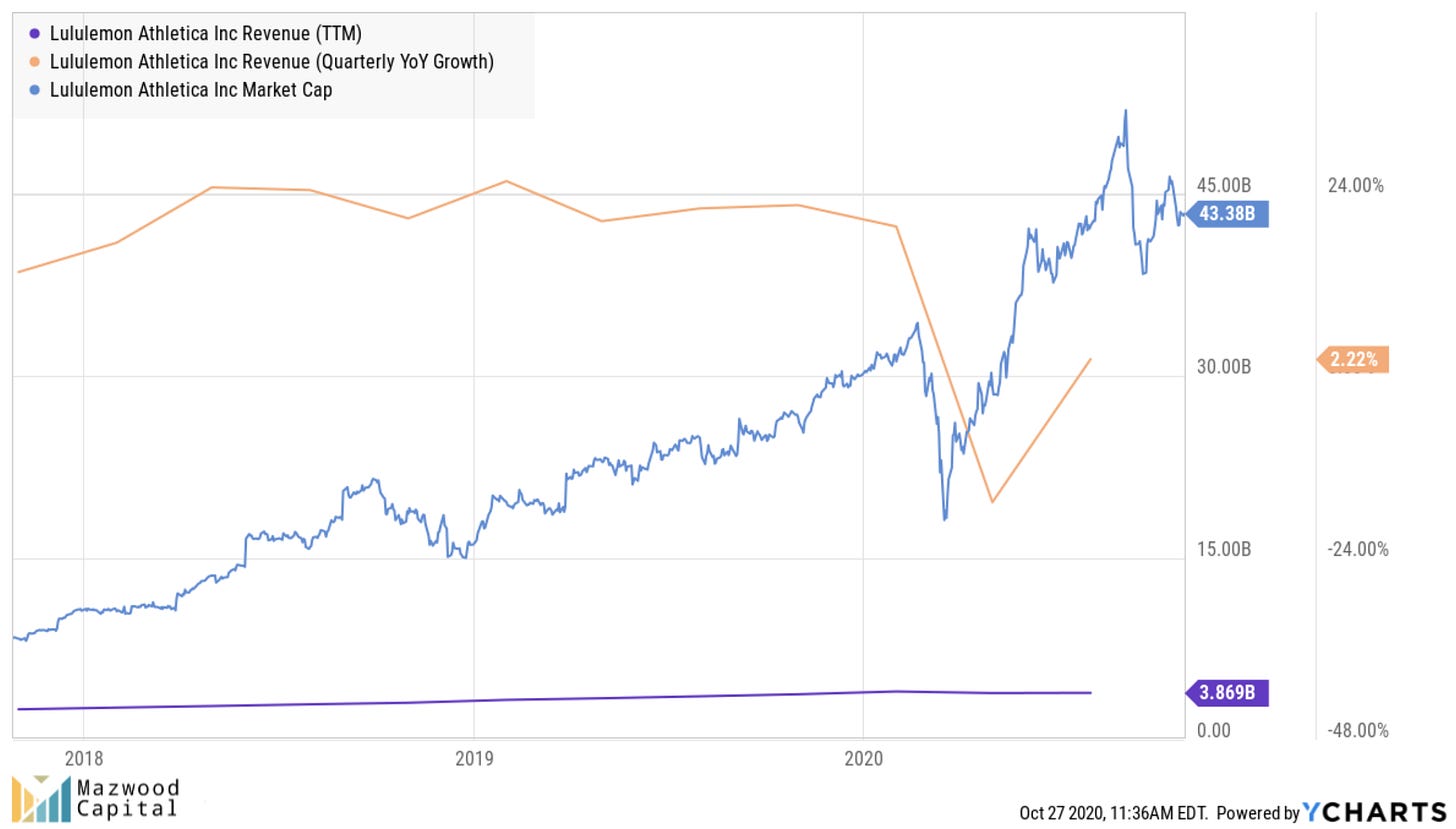 Let's go a little deeper. This is a simple business! They've got stores and they've got the internet. Voilà!

Stretching back five years, here's how these two core segments perform.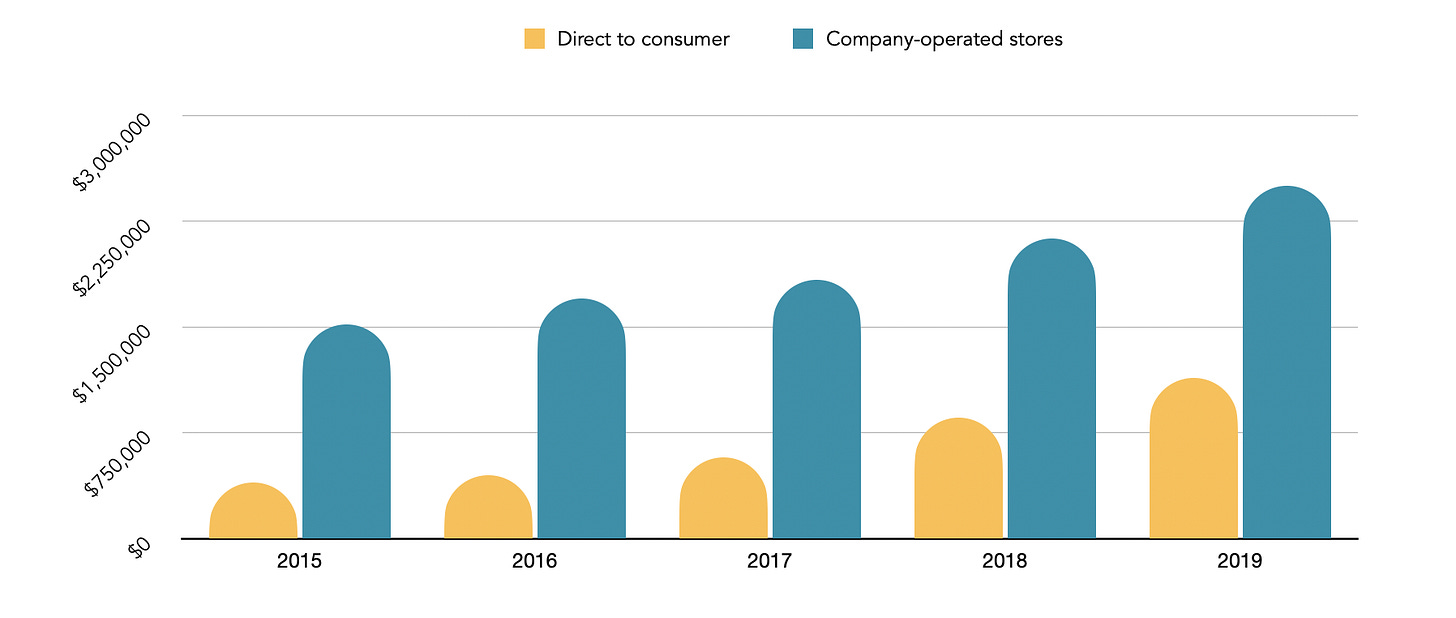 And growth rates?

When people say retail is dead, they aren't talking about retail that controls their own distribution. Nobody says Costco is dead. Lululemon has been showing meaningful growth in two distinct channels that they control. I dig it.
---
2. The Stores
While direct to consumer is obviously the higher growth segment (even before COVID), let's unpack Lululemon's company-owned store business a bit.
As of their 2019 10-K, published on February 2, 2020, Lululemon had 491 company-owned stores. Here's how they break down.
Honestly, I was a bit surprised that more than 1/3 of Lululemon's stores were outside the U.S. The 26 "Others" include stores located in Germany, South Korea, Singapore, France, Malaysia, Sweden, Ireland, the Netherlands, Norway, and Switzerland.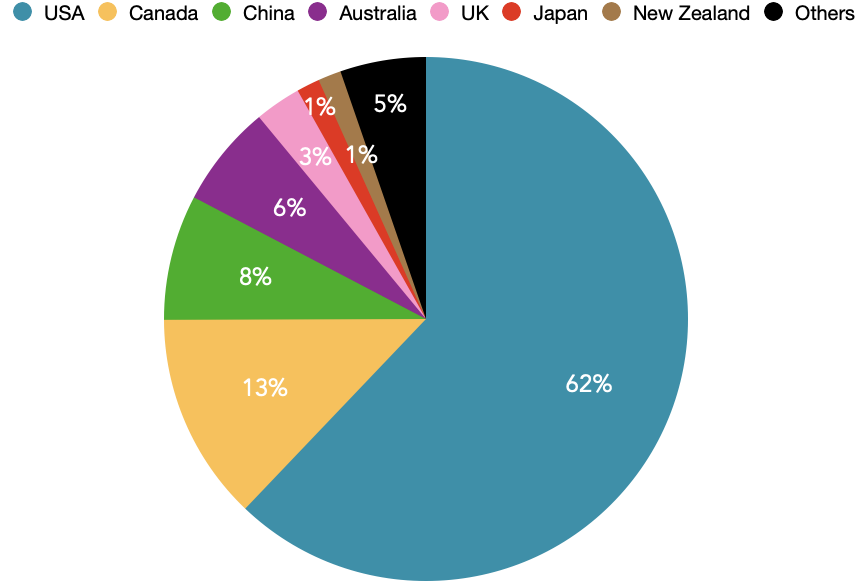 And here's how the number of stores are growing year over year:

Note: The 2017 number shows a dip, but this comes with a huge asterisk. In 2017, Lululemon actually opened 46 net new stores, including 16 internationally. But, as part of a restructuring, they closed 48 (of 55 total) ivivva branded stores. (Apparently ivivva is Lululemon's youth brand? Who knew!).
So in reality, if we look at the core Lululemon brand, we're looking at around 10% growth in stores per year.
And not only are we looking at more stores, we're looking at more revenue per square foot.

To give you a better sense of this metric, Time put out the graphic below a few years ago. The exact numbers change a little year by year, but Lululemon is consistently in the top 5 of retailers' sales per square foot. If you didn't know any better, Lululemon has the characteristics of a luxury brand, just chilling in yoga pants.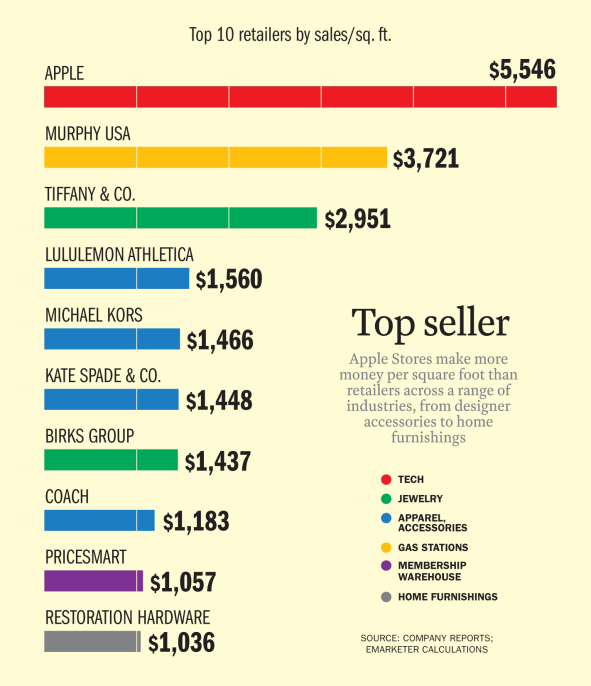 ---
3. Geographic Footprint
While we're here looking at store breakdowns by geography, here's a quick note on Lululemon's business outside the U.S. and Canada.
Total revenue by region:

The U.S. is looking wildly consistent, while the rest of the world is slowly, slowly eating Canada's lunch (wonder what HQ in Vancouver thinks of this!).
In last month's Q2 Earnings call, on Sept 8, CEO Calvin McDonald discussed international growth in the context of COVID:
Internationally, I will start with China because it continues to just build steam and momentum from Q1 when we had the early closings to when the stores reopened, and we are seeing incredible growth in both our e-commerce numbers which was up 136% in China, and in stores, which are up—significant growth—as we saw through the quarter and heading into this quarter. They are benefiting from a lot of the domestic travel that is occurring.
And when Europe and [the] rest of Asia-Pacific [show] very positive growth in e-commerce, e-commerce numbers similar to that in North America, which is really exciting for us, because it's acquiring new guests and it's resetting how high it's with our online business and potential as we think about… our physical real estate strategy and entering into new markets. So, I am excited overall with the performance of our business internationally and continue to see guest acquisition increase the expansion of the brand led by China, but very strong in all markets that we are in."
---
4. Nike
I think Nike is the closest comp to Lululemon, so it behooves us to spend a few minutes looking at the two.
Here is Nike's revenue breakdown (wholesale vs. direct to consumer) for the last five years:

A few comments on the numbers:
Nike's Fiscal Year End is May 31, so this year's numbers include COVID crappiness from March, April and May. (That is why it's grayed out, but still visible).

This doesn't include about $2B/yr in Nike's "Other" and "Converse" business units.
With some observations:
The scale of these numbers! Nike's $35-$37B in annual sales vs. Lululemon's $4B is nothing to sneeze at.

Despite declining, Nike still has a huge wholesale business. In some ways this reminds me of the movie business: studios clearly need to develop their own DTC channels (e.g., Disney+), but movie theaters generate so much revenue, that what if the theaters don't come back? What if wholesale distributor stores don't bounce back for Nike? Nike doesn't break down what % of their wholesale business is offline vs. online, but that will be interesting to watch.
So let's compare apples to apples, the direct to consumer and total revenue numbers of Lululemon and Nike through 2019 (i.e., let's not touch COVID here).

I'm struck that even if you completely remove Nike's $25B wholesale business, their DTC business alone is still ten times bigger than Lululemon's!
---
5. Charts!
Let's unpack some other comparisons to Nike (these numbers are through this summer, including early effects of COVID).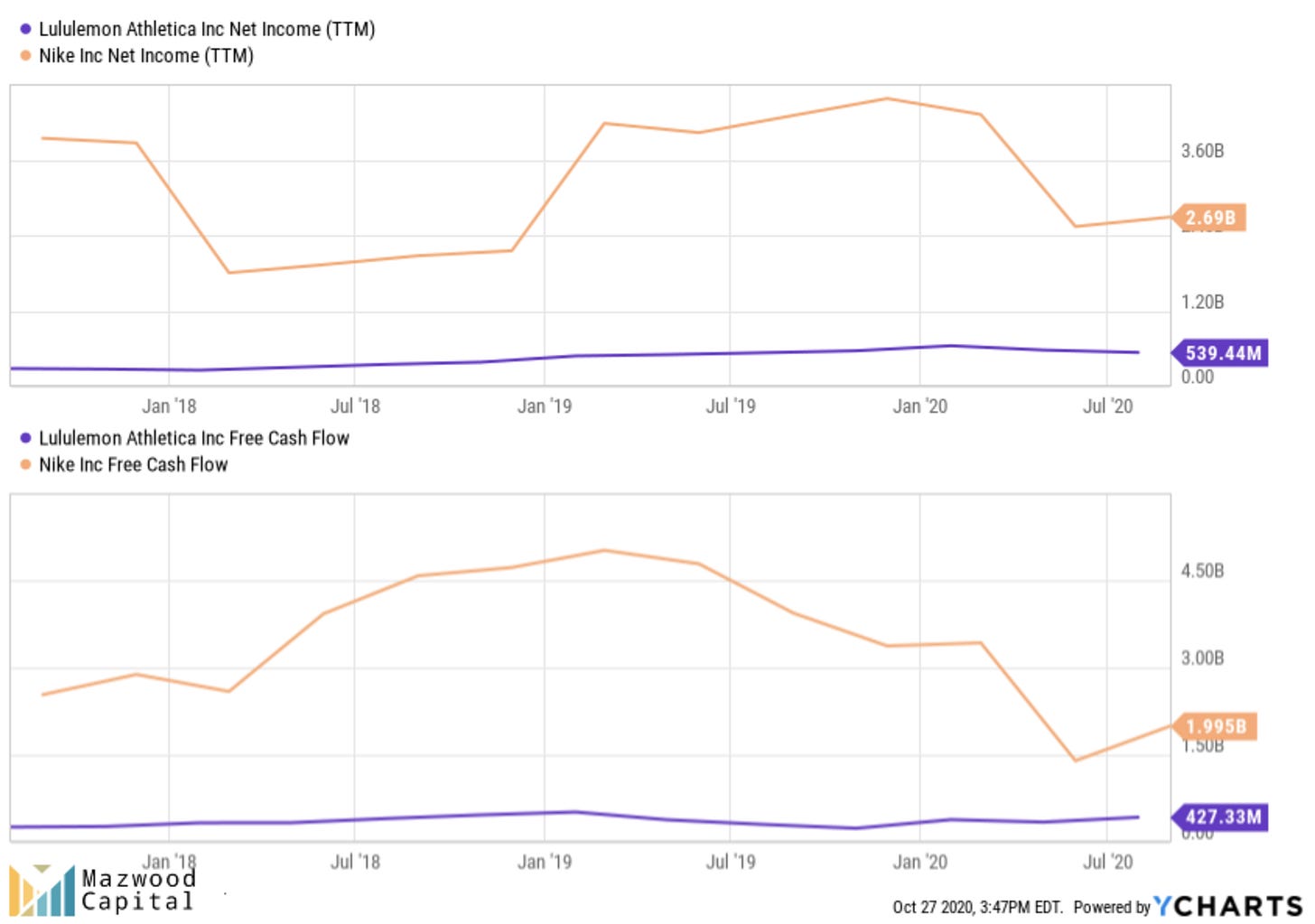 Given the much smaller revenue base, Lululemon's profitability and free cash flow numbers are impressive.
Looking at some other metrics, it's hard not to like Lululemon's position: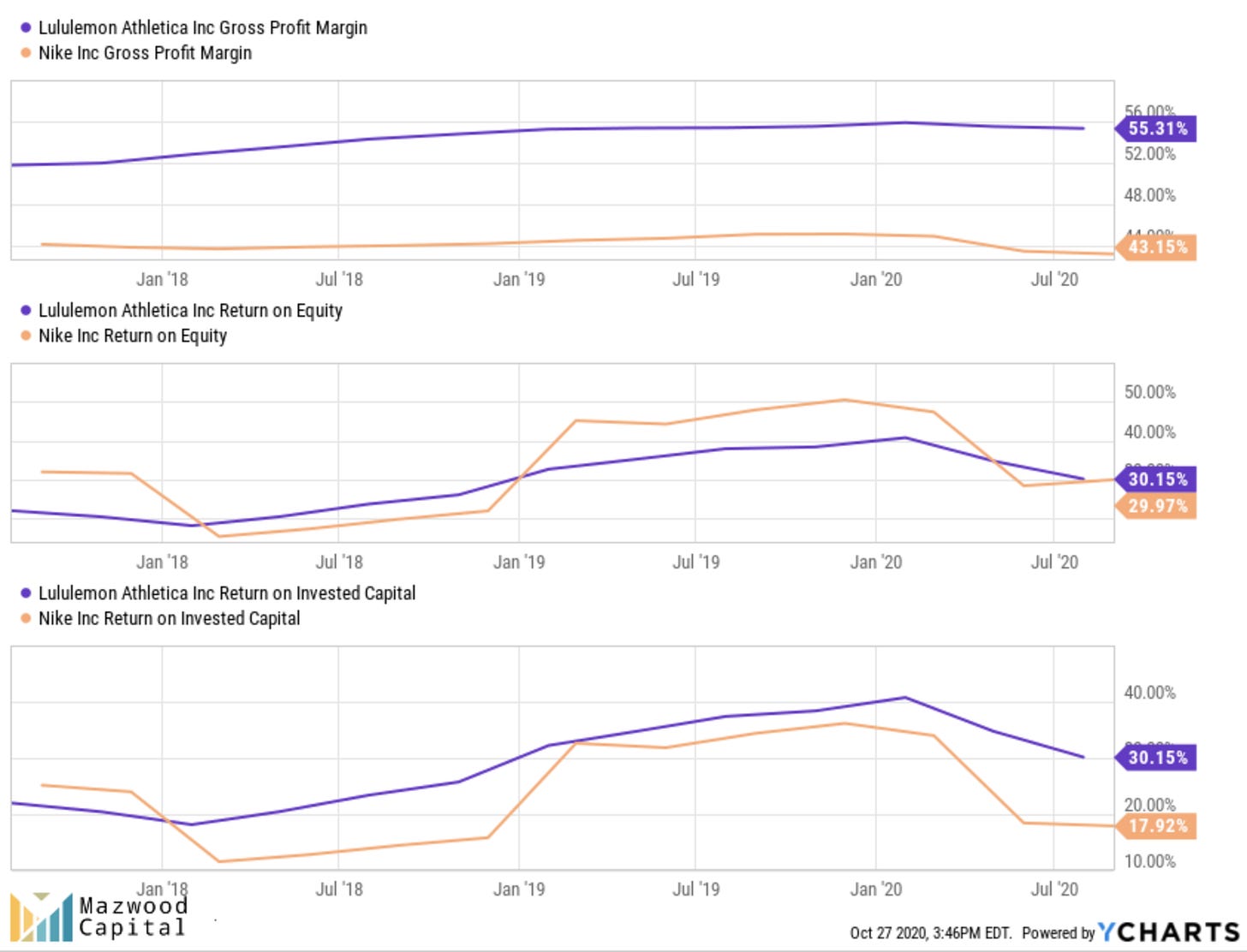 And given its size, I love their cash and…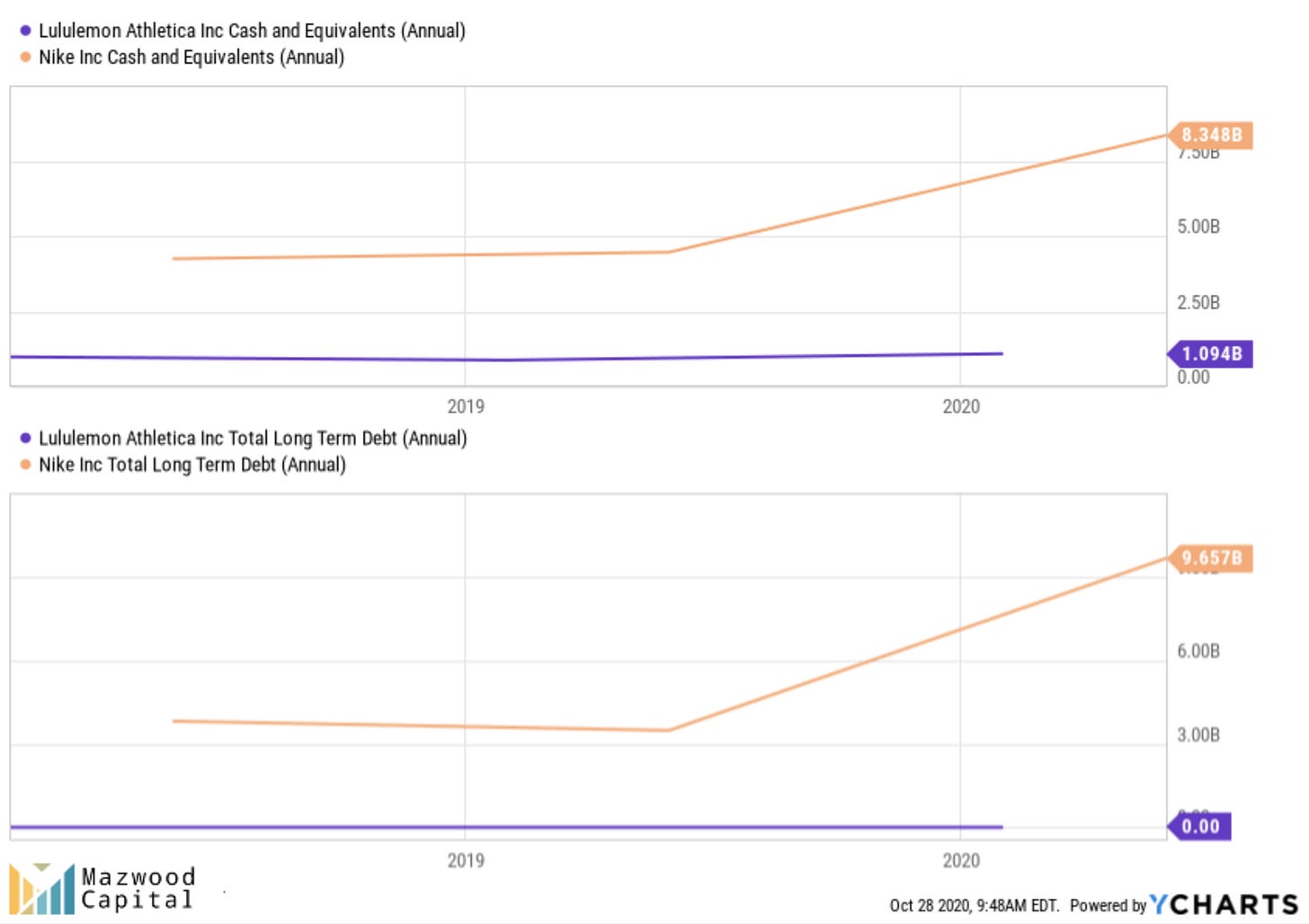 …wait, no debt long-term debt!?
How many companies with a $40B market cap carry no long-term debt on the books?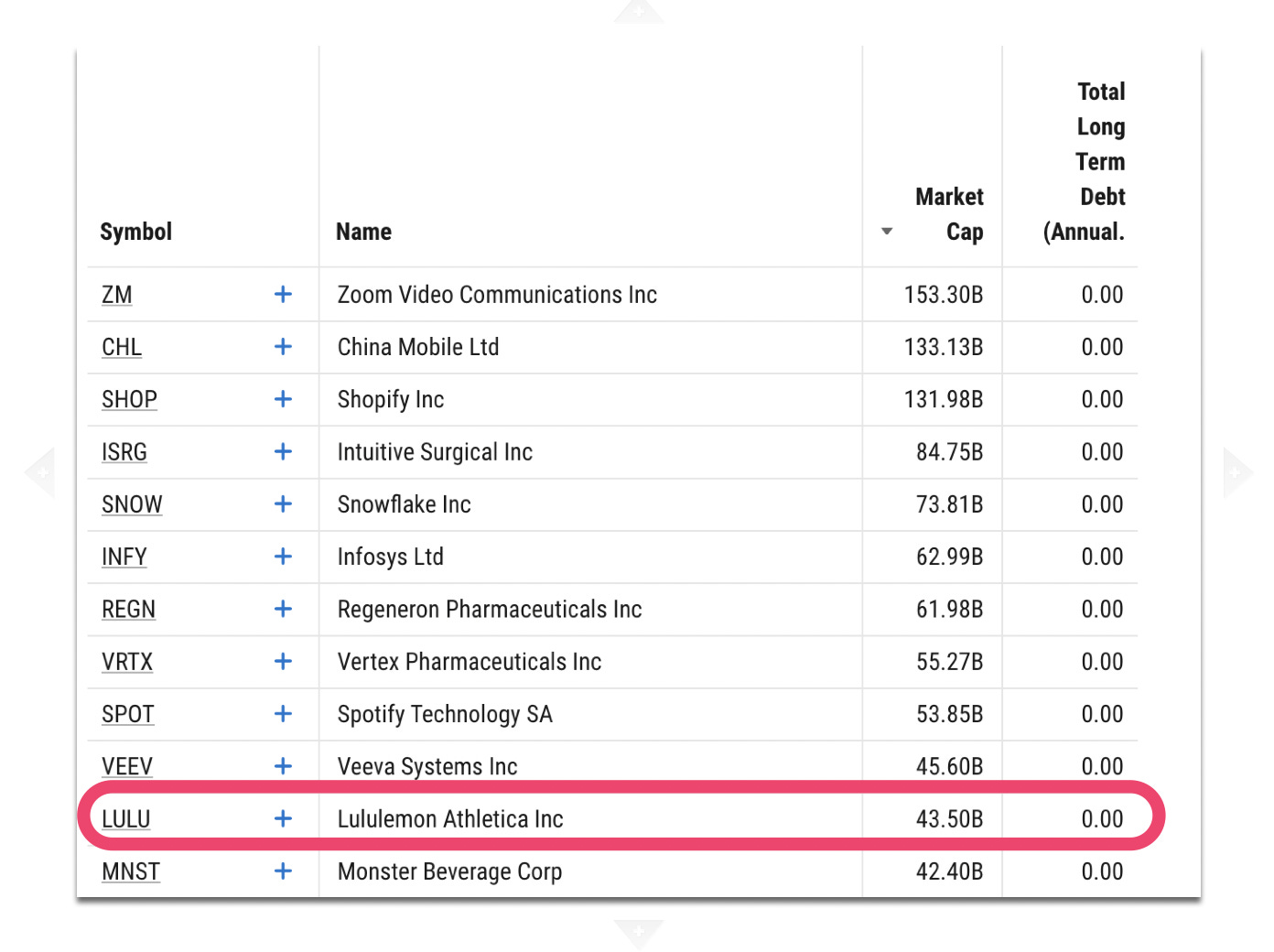 Actually just twelve.
Very nice.
And valuation? Upon first glance, $LULU is strikingly more expensive than $NKE.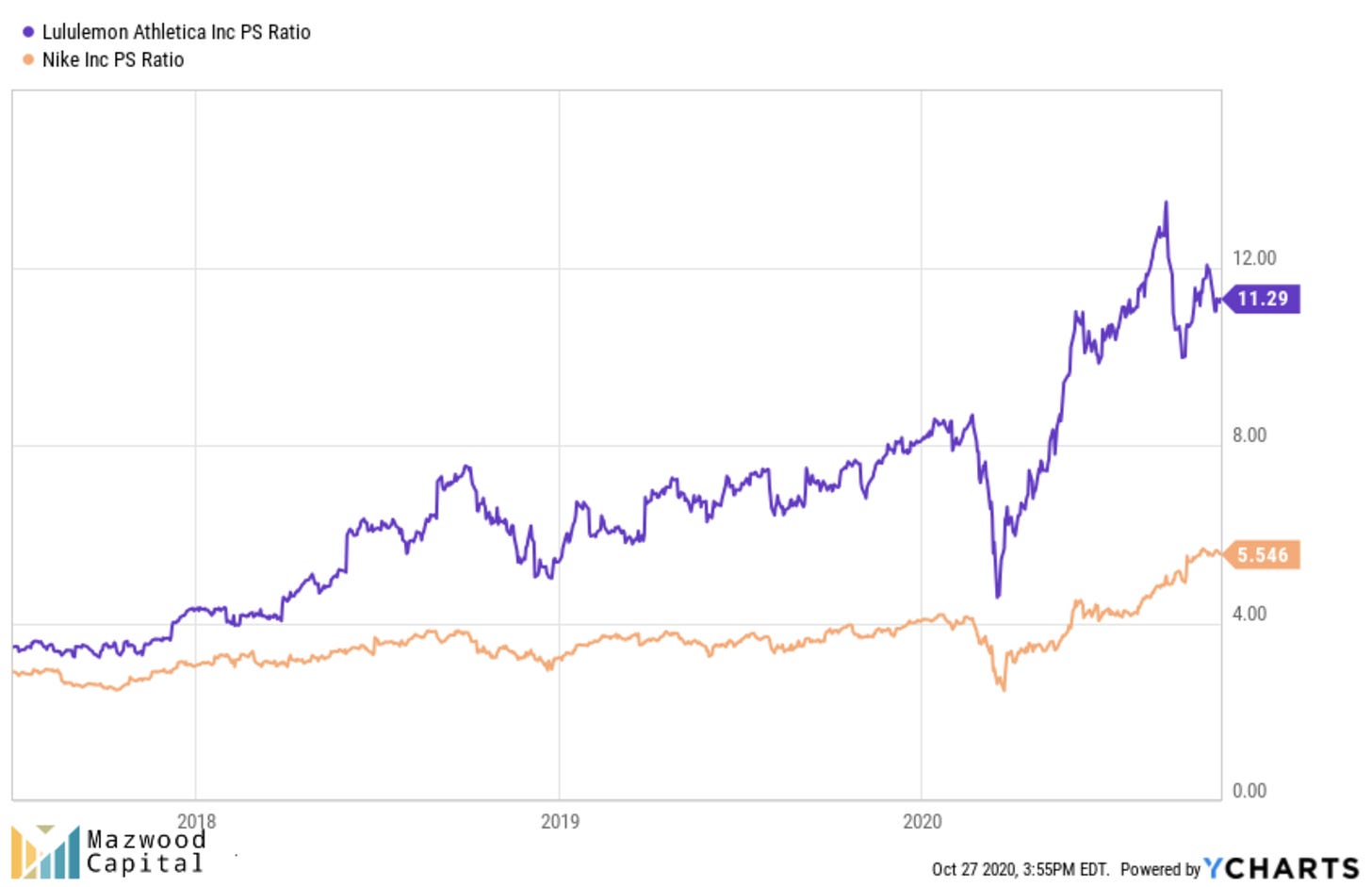 But wait!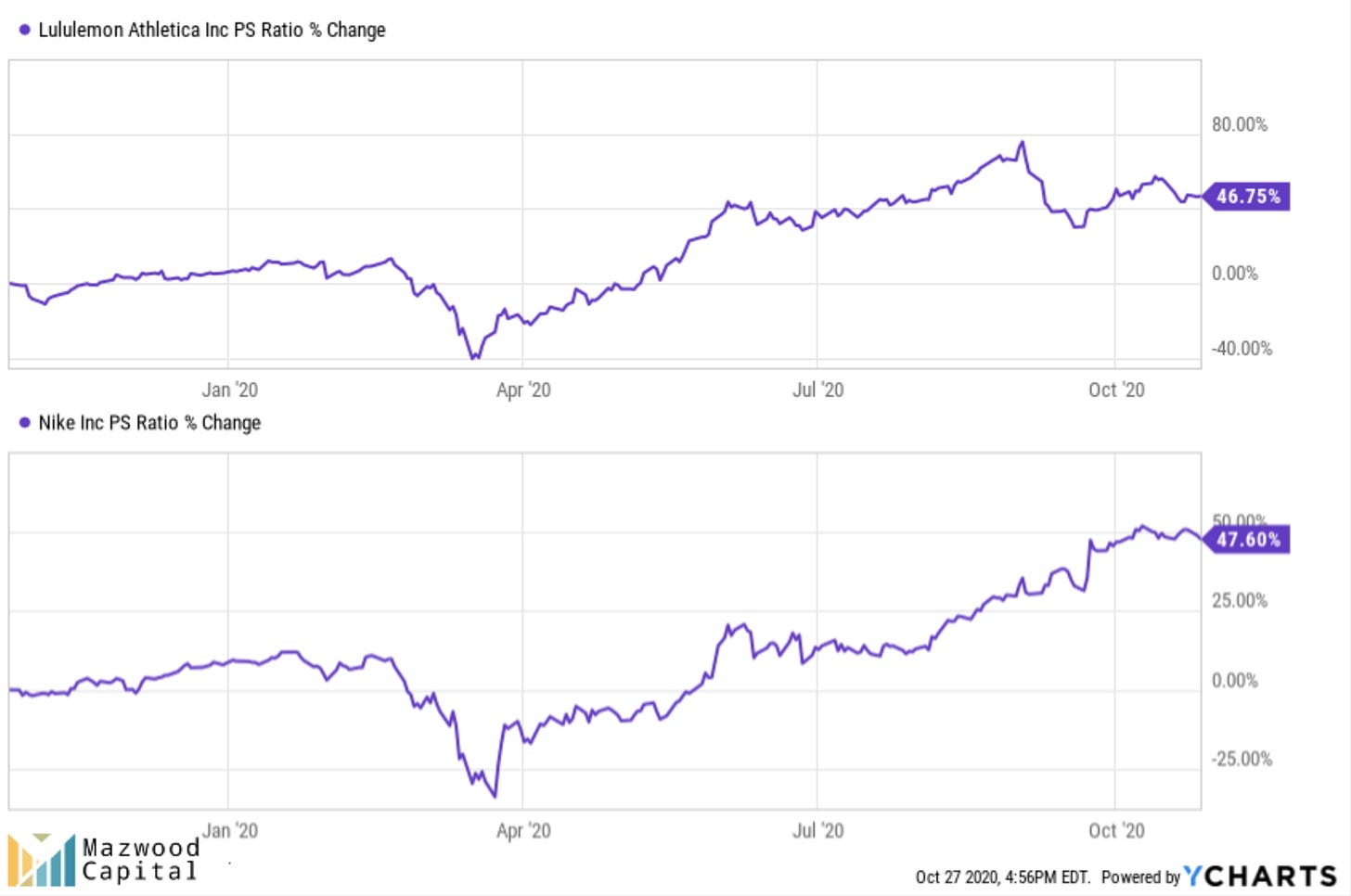 Lululemon's valuation is not growing any faster than Nike's. For years, Lululemon has always been valued at 2-3x that of Nike. This is what the markets have determined. The recent valuation spike in Lululemon is still in line to Nike relatively speaking. Truthfully, I was expecting worse.
---
6. Covid & the Future
So let's talk about the elephant in the room. Retail. It's a challenge, certainly. As mentioned from the top, there is a reason SaaS is all the rage.
But I still think there is a lot to like here.
People will continue to shop. People will continue to buy clothes. Even if you don't go anywhere anymore, you're still getting dressed in the morning (hopefully)!
But retail is a problem. Malls are a problem. Department stores are a problem.
So if we buy (pun) that people will continue to shop, the logical place to do that are with brands that control their own distribution, especially where DTC is climbing…
So in Lululemon we have the following:
Growing DTC business of ~35% the last three years

Growing international business

Growing store count ~10% year

Growing sales per square foot, with one of the highest rates in retail
And a few brief highlights that we haven't even touched on:
A Men's product category that is quickly becoming a $1B business on its own:

A $500M acquisition of Mirror this summer:

Napkin Math had a great write-up of the acquisition when it happened.

CEO Calvin McDonald on last month's earnings call regarding MIRROR:

MIRROR is a further example of how we are considering and evolving new aspects of our business through an omni lens. As you know, we closed on the MIRROR transaction in early July and I couldn't be more excited with the potential MIRROR brings to Lululemon and the opportunities Lululemon brings to MIRROR. As I stated, when we announced the acquisition, MIRROR is a standalone revenue generating company and their management team will continue to operate the business from their offices in New York.
A newish paid membership program that is slowly rolling out.

Again, CEO McDonald:

Shifting to Membership, I am excited to announce we are continuing to test a program in Edmonton, Chicago and Denver and starting this week we will also bring the program to our guests in Toronto for the first time. The membership program continues to celebrate community connection and provides a range of offering such as special product, dedicated online sweat classes and inspiring guest speakers to extend the Lululemon experience.

According to Lululemon's website, the program in Chicago (and I assume the other pilot cities) looked like this: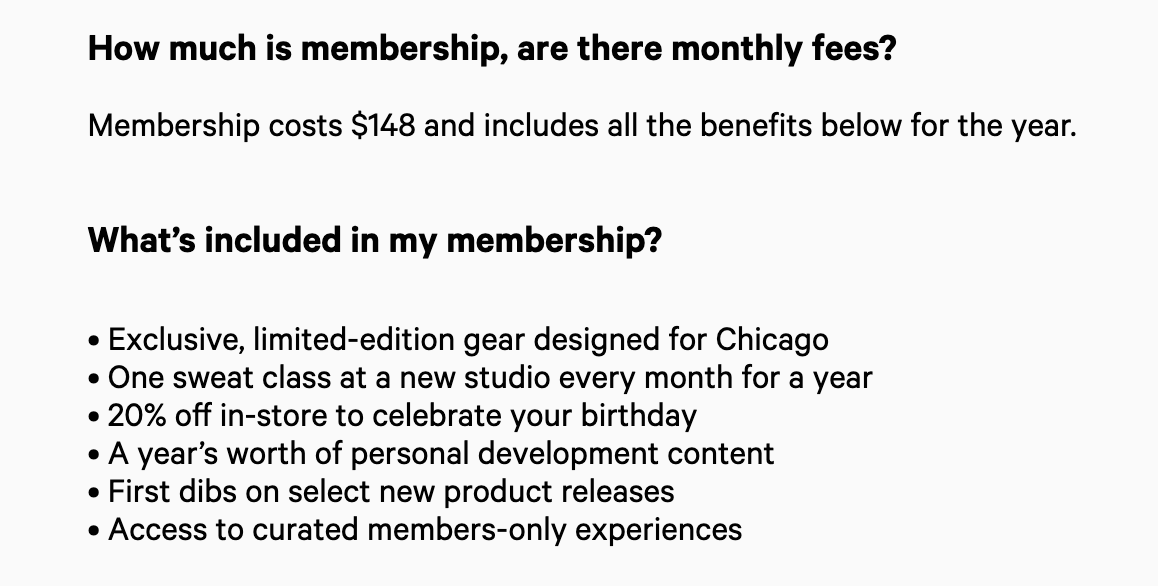 And last year's announcement of a "Power of Three" strategic plan that includes:

Product innovation –- The Company expects to more than double the size of its men's revenues by 2023. In addition, its plans call for continued expansion in the women's and accessories businesses… The Company also plans to continue its product collaborations, expand its popular Office/Travel/Commute category, and pursue new opportunities, such as selfcare.

Omni guest experiences –- The Company expects to more than double its digital revenues by 2023. The Company will focus on offering an integrated guest experience across channels which are intended to inspire, provoke and celebrate guests who live a healthy and mindful lifestyle across multiple experiences – such as events, dynamic new store formats, and its innovative membership program that fosters connections among guests.

Market expansion -– The Company plans to quadruple its international revenues by 2023. The Company's recent success in its international markets demonstrates that the sweatlife translates across cultures and geographies and presents considerable growth potential for the brand. Expanding across China, as well as the APAC and EMEA regions, will be continued areas of focus for the Company.

---
7. VERDICT
I've bought $LULU in two tranches so far.
On Sept 9:
And Sept 18:
I'm excited about the position. I'm excited to add to it.
And who knows?
Maybe soon enough all the shiny tech boys might be checking this lady out.

---
Thanks to everyone for giving this Lululemon Deep Dive a read. Please like/comment/share!
And if you're new here, don't be shy! We'd love to have you subscribe to Musings by Mazwood.
We aim to be respectful of your inbox and post portfolio updates, company deep dives (like this one), and more. We hope you'll join us!